"Night's On Fire" by David Nail 
"Bottom of the Sea" by Sean McConnell 
"American Country Love Song" by Jake Owen 
"If My Heart Had Wings" by Faith Hill
"Out of Misery" by Libby Koch 
"Homegrown Honey" by Darius Rucker 
"Traveller" by Chris Stapleton 
"She's Got a Way With Words" by Blake Shelton
"Hard to Please" by The Black Lillies 
"21 Summer" by Brothers Osborne 
Warm Vanilla Cider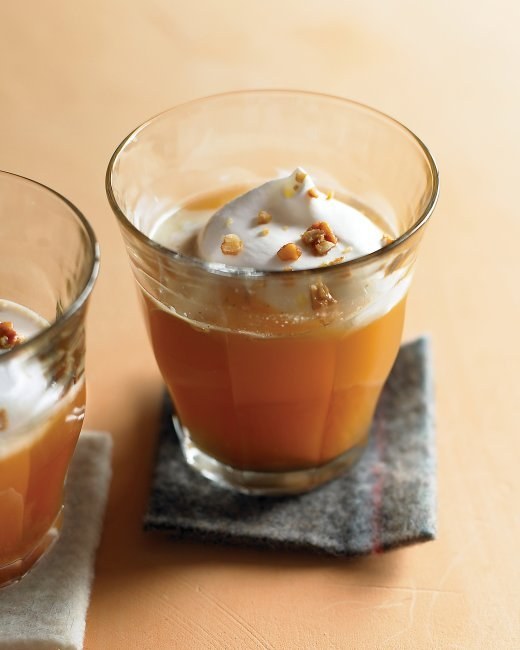 (marthastewart)
Ingredients:
6 cups fresh apple cider 
2 tablespoons packed dark-brown sugar 
2 whole nutmeg seeds 
1 vanilla bean (split and scraped) 
6 ounces (3/4 cup) bourbon, if desired 
Whipped cream 
Honeyed Walnuts
Step One: "Combine apple cider, dark-brown sugar, nutmeg seeds, and vanilla bean in a medium saucepan. Gently simmer over medium-low heat for 15 minutes."
Step Two: "Remove from heat, and add bourbon if desired. Remove and discard solids."
Step Three: "Divide among 6 mugs or heatproof glasses, and top each with a dollop of whipped cream and a few honeyed walnuts."
Thanks, Martha Stewart for this recipe! 
"Online" by Brad Paisley 
"Make You Miss Me" by Sam Hunt
"Peter Pan" by Kelsea Ballerini
"One Last Time" by Sara Watkins
"God Made Girls" by RaeLynn
"I Got This" by George Canyon 
"Big Canoe" by The Carolyn Sills Combo
"Setting the World on Fire" by Kenny Chesney 
"Coming Out of the Clouds" by Scott Sparks
"Make America Great Again" by Bobby Palermo 
"To me Redneck is a sense of self and a way of life" – Gretchen Wilson

Although Philly is where we call home, we know that you do not have to live down South to have a love and appreciation of the country lifestyle – for us, country is a frame of mind, not a location.  
We pride ourselves on producing high quality country inspired apparel and accessories which are made in the USA. Our apparel fuses southern spirit and couture class. Our brand strives to inspire our customers individuality and to bring out their "inner cowgirl or cowboy" with our playful line of T-shirts and tank tops.
 
What do your boots say about you?
Boot Bling is our custom boot accessory that will promise to take your look to the next level. Each Boot Bling boot bracelet is handmade, not mass produced. The superior craftsmanship is complimented by the high quality materials we have selected to give our customers the perfect unique accessory to spruce up any ol' cowgirl boot. Whether you want your boots to match your outfit or if you are just trying to add shine, Redneck Couture's Boot Bling will complete and compliment your look. Boot Bling – "What do your boots say about you?"