Peppermint Bark

(sallysbakingaddiction)
Ingredients:
12 ounces (339g) high quality white chocolate, broken into pieces and divided1
6 ounces (170g) high quality semi-sweet chocolate, broken into pieces1
1 and 1/2 teaspoons vegetable, coconut, or canola oil
1/2 teaspoon peppermint extract, divided
3 regular size candy canes, crushed
Step One: "Line the bottom and sides of a 9-inch or 8-inch square baking pan with parchment paper or aluminum foil, smoothing out any wrinkles. Set aside." 
Step Two: "You can temper the chocolate or melt the chocolate without tempering. That is up to you. I melt the chocolate for this bark recipe. If tempering the chocolate, make sure the layers are never refrigerated. Allow them to set at room temperature. There are two ways you can melt the chocolate. You can use a double boiler over just barely simmering water or you can use the microwave. The double boiler is easier, but the microwave is a little more convenient for most people, so my directions are for a microwave. If you have a double boiler, you probably know how to use it! So, the KEY to melting chocolate in the microwave is to do it in small bursts and stir frequently. Chocolate overheats so fast, so easily. Melt 1/2 teaspoon of oil with 6 ounces of the white chocolate in a small heatproof bowl. Melt in 15 second increments, stirring vigorously with a rubber spatula or spoon after each increment, until completely melted and smooth. Make sure you scrape down the sides of the bowl to avoid scorching. Once melted, stir in 1/4 teaspoon peppermint extract."
Step Three: "Pour melted white chocolate into the prepared baking pan, spreading with an offset spatula into a thin smooth layer."
Step Four: "Place the baking pan in the refrigerator for 10-15 minutes or the freezer for about 8 minutes; or until almost completely set. If it sets completely, the bark layers could separate." 
Step Four: "Place the semi-sweet chocolate and 1/2 teaspoon of oil into a small heatproof bowl (or the double boiler) and microwave/stir in the same manner you did in step 2. Once melted, stir in remaining 1/4 teaspoon peppermint extract."
Step Five: "Pour all of the semi-sweet chocolate over the white chocolate layer. Spread into a smooth layer. Place the baking pan back in the refrigerator for 10-15 minutes or the freezer for about 8 minutes; or until almost completely set."
Step Six: "Place the remaining white chocolate and 1/2 teaspoon oil in a small heatproof bowl and microwave/stir in the same manner you did in step 2. Pour over the bark layers and spread into a smooth layer. (This layer will not have peppermint extract.)"
Step Seven: "Sprinkle with crushed candy canes-- to crush, I usually do it in a food processor or stick the candy canes in a sealed ziplock bag and roll with a rolling pin until crushed."
Step Eight: "Refrigerate the bark until completely hardened. Once hardened, remove from the pan and peel off the foil or parchment. Break into pieces as large or as small as you want. Alternatively, you can cut squares. To do so, remove from the refrigerator and allow to sit at room temperature to slightly soften for 10-15 minutes. Use a very sharp knife and cut."
Thanks, Sally's Baking Addiction! 
The holidays are quickly approaching. That means lots go shopping, gift wrapping, decorating, and making phone calls to relatives that you forgot you had. It's still a spectacular time to be had by all. 
Here's a simple gift guide to help you this season to buy for the fancy redneck in your life!
Gift Cards
Purchasing a Gift Card for someone can often times be misunderstood as impersonal, but let's be honest, Gift Cards are awesome for both the giver and the receiver. Gift Cards allow for people to buy someone a gift they will actually like via proxy.
CA$H MONEY
Yeah, this one is super impersonal, but seriously, for the college student you know, he/she will rejoice at having some extra spending money.
Shameless plug, but Redneck Couture has quality apparel and jewelry for the fancy redneck in you. We have released three new Boot Bling designs this year, and we have twenty different tassel color options--perfect for special occasions, bridesmaids, or matching school colors.

Amazon
Seriously. This site has everything. Amazon comes equipped with really useful suggestions, recommendations and deals as well. If you know your friend works out a lot, get them a water bottle that can also be a wallet. Does your mom love the idea of making spaghetti out of a zucchini? Boom get her a Veggetti machine that can literally turn any vegetable into delicious "pasta."
Veggetti Pro

(amazon)
Kangaroo Bottle

(amazon)
Etsy
If you're looking for cute, quirky, and crafty items for someone special, Etsy is the place to check out.
Money Soap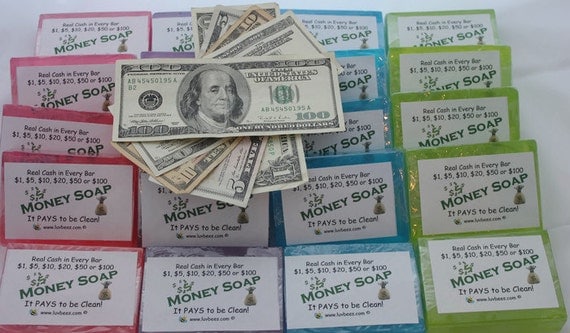 (etsy)
Tip:
Buzzfeed and Pinterest are great aggregators for Gift Lists. They have categories and lists for every single person on your list. Don't be afraid to give them a scroll.
Tip:
KEEP IT SIMPLE. More often than not, simple and useful gifts are pretty spectacular ones. If you feel that you don't know someone enough, or that someone has everything, you can probably just do something simple.
Tip:
Timing is everything. Shop on weekdays. This way stores aren't as zany and crowded. If you find yourself shopping on the weekend, go really early in the morning.
Tip:
I'm a really big Dollar Tree supporter. Go there. You can find everything you need to wrap this year: really cute wrapping paper, boxes, gift bags, gift tags, tissue paper, tape, scissors, etc.
Tip:
BUDGET! Come up with a "Nice List" of people that you plan on buying for this year. Then, come up with a budget. How much can you afford to spend on gifts this year? Then divide it up amongst the people on your list.
Tip:
Buy cards! If you aren't doing gifts this year, and even if you are, get cards for the special people in your life. Everyone likes a card, and it will make them feel like you were thinking of them.
Tip:
Free shipping is the best kind of shipping. Shop at websites like Redneck Couture, Mod Cloth, Amazon, Apple and even Target. Some websites require minimum purchase amounts to qualify for free shipping (like Apple), but more often than not, you're already going to be spending that minimum anyway. Also, stores like Walmart and Target allow for you to pick the items up in stores--so you don't have to pay for shipping.
Tip:
Organize your gifts. I'm the type of person that keeps her life in Excel sheets. Be organized when it comes to your shopping, because it will keep you on budget and on time. Make sure you know how much you're spending, where you're spending it, and what/who you are spending it on.
Tip:
Keep every receipt. Again, I do this for everything in general, but for the holidays I keep an envelope of receipts from my holiday shopping. This allows you to figure out when and where you bought stuff, and makes returns simpler. 
Tip:
Get gift receipts and put them in the boxes. This is especially true if you purchase clothing for someone.
Tip:
If the person has never mentioned it, he/she probably doesn't want it or need it.
Tip:
Make gifts! Don't spend more money on DIY projects than you would on the actual purchased item, but sometimes it's fun to make a gift with a personal touch. Pinterest has an endless amount of ideas.
"I'll Be Home For Christmas" by Reba McEntire
"Rocking Around The Christmas Tree" by LeeAnn Rimes
"Do You Hear What I Hear?" by Carrie Underwood
"Christmas In Dixie" by Alabama
"Silent Night" by Kelly Clarkson, Trisha Yearwood and Reba McEntire
"Dear Santa" by Tim McGraw
"Baby, It's Cold Outside" by Lady Antebellum
"The Christmas Shoes" by Newsong
"Santa I'm Right Here" by Toby Keith
"A Christmas Letter" by Keith Whitley
"To me Redneck is a sense of self and a way of life" – Gretchen Wilson

Although Philly is where we call home, we know that you do not have to live down South to have a love and appreciation of the country lifestyle – for us, country is a frame of mind, not a location.  
We pride ourselves on producing high quality country inspired apparel and accessories which are made in the USA. Our apparel fuses southern spirit and couture class. Our brand strives to inspire our customers individuality and to bring out their "inner cowgirl or cowboy" with our playful line of T-shirts and tank tops.
 
What do your boots say about you?
Boot Bling is our custom boot accessory that will promise to take your look to the next level. Each Boot Bling boot bracelet is handmade, not mass produced. The superior craftsmanship is complimented by the high quality materials we have selected to give our customers the perfect unique accessory to spruce up any ol' cowgirl boot. Whether you want your boots to match your outfit or if you are just trying to add shine, Redneck Couture's Boot Bling will complete and compliment your look. Boot Bling – "What do your boots say about you?"