Time to get sexy, smart, and spooky this Halloween! Check out these fun Halloween couples costume ideas.
1. Cowboy & Cowgirl
2. TV or Movie Couple
Sandy and Danny (Grease)

(InStyle)
Mr. & Mrs. Smith (Mr. & Mrs. Smith)

(pinterest)
Angel and Buffy (Buffy the Vampire Slayer)

(pinterest)
Jim and Pam (The Office)

(pinterest)
Woody and Jessie (Toy Story)

(thomasrhettIG)
Paula Deen and butter

(HuffingtonPost)
3. Combos
Salt and Pepper

(myburningkitchen)
Jack & Coke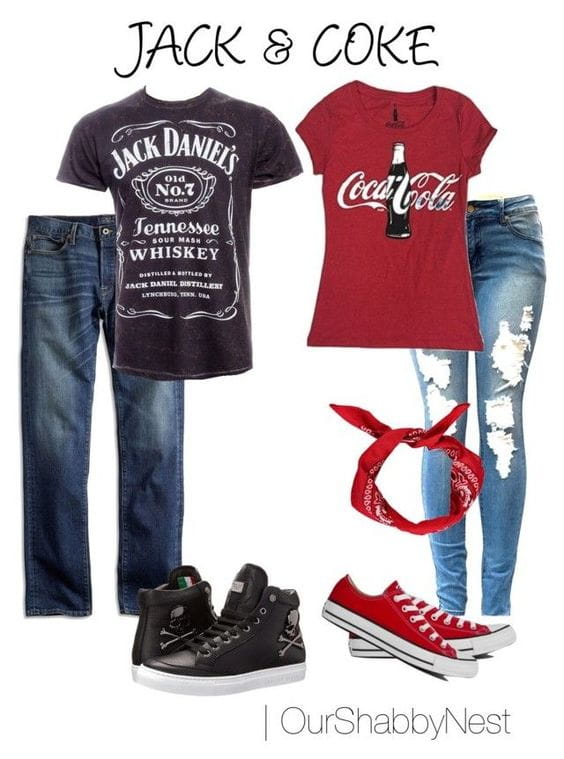 (ourshabbynest)
Pizza and Delivery Guy

(studioDIY)
Hunter and Deer

(pinterest)

(costume-works)
Although, if you want to go as a doe, forgo the antlers--that makes you a buck!
4. Something Punny
Tooth Fairy

(julieannart)
Party Animals

(brit+co)
Fifty Shades of Grey

(costume-works)
Hawaiian Punch

(brit+co)
5. Iconic Country Couple
Johnny Cash and June Carter

(brit+co)
6. Topical
Uber and Lyft

(brit+co)
Snapchat Filters

(goodhousekeeping)
Netflix and Chill

(brit+co)
HAPPY HALLOWEEN!
1. "Head Over Heels" by The Washboard Union
2. "Sue Sets Down" by Chris Buck Band
3. "Slow Burn" by Tim Hicks
4. "Die A Happy Man" by Thomas Rhett
5. "With You I Am" by Cody Johnson
6. "What Ifs" by Kane Brown
7. "Everybody We Know Does" by Chase Rice
8. "All My Rowdy Friends Are Coming Over Tonight" by Hank Williams Jr.
9. "Sunday Morning Coming Down" by Johnny Cash
10. "Friends In Low Places" by Garth Brooks
This isn't like a Buzzfeed quiz where I provide you with a bunch of questions and pictures to click on and then at the end you get the opposite of what you thought you were going to get, but you'll take it anyway.
1. Fall Person

(pinterest)
Likes: Pumpkin flavored everything, Halloween, spooky stuff, costumes, fake blood, "sweater weather", raking leaves, bonfires, football, harvest season, lattes, school starting
Dislikes: Raking leaves, humidity, people who skip Halloween and Thanksgiving and go right to Christmas, "I miss summer!" Facebook posts
Wardrobe: flannels, beanies, boots, scarves, cardigans, t-shirts, leggings
Notes: Fall people and Spring people normally get along wonderfully for they are mild versions of Winter and Summer people. Fall is nature's last hurrah, before the kiss of death of winter. Fall people revel in the warm colors, chilled nights, and constant smells of cinnamon and pumpkin.
2. Winter Person

(huffingtonpost)
Likes: Christmas, snow, cold weather, Christmas trees, hot chocolate, being cozy, Christmas music, decorations, Christmas presents, shopping, candles, cookies and other sweets, sledding, New Years Eve, Valentine's Day
Dislikes: warm weather, summer, being sticky, sweating, the sun
Wardrobe: hoodies, sweatpants, lots of red and black, wool, flannel, hats, sweaters--so many sweaters
Notes: The holiday season is a big deal, being cold is never a problem, makes for the best cuddle buddies
3. Spring Person

(dailyexpress)
Likes: pastel colors, rain, candy, baby animals, wild parties, cleaning, exercise
Dislikes: extreme temperatures, summer people and winter people's constant complaining, allergies
Wardrobe: t-shirts, capris, ankle boots, flats, light cardigans, skirts
Notes: Spring people are a breath of fresh air. They are organized, detail oriented, and peaceful.
4. Summer Person

(blogthings)
Likes: sunshine, the beach, tanning, swimsuits, ice cream, parties, fruity flavored drinks, mason jars, denim
Dislikes: being cold, tan lines, sunburn, warm beer, other seasons, school
Wardrobe: tank tops, bathing suits, shorts, sundresses
Notes: "I live for the summer!" is probably something that is often said, chill and not at the same time, ultimate hosts for parties and gatherings, has great taste in food
"To me Redneck is a sense of self and a way of life" – Gretchen Wilson

Although Philly is where we call home, we know that you do not have to live down South to have a love and appreciation of the country lifestyle – for us, country is a frame of mind, not a location.  
We pride ourselves on producing high quality country inspired apparel and accessories which are made in the USA. Our apparel fuses southern spirit and couture class. Our brand strives to inspire our customers individuality and to bring out their "inner cowgirl or cowboy" with our playful line of T-shirts and tank tops.
 
What do your boots say about you?
Boot Bling is our custom boot accessory that will promise to take your look to the next level. Each Boot Bling boot bracelet is handmade, not mass produced. The superior craftsmanship is complimented by the high quality materials we have selected to give our customers the perfect unique accessory to spruce up any ol' cowgirl boot. Whether you want your boots to match your outfit or if you are just trying to add shine, Redneck Couture's Boot Bling will complete and compliment your look. Boot Bling – "What do your boots say about you?"