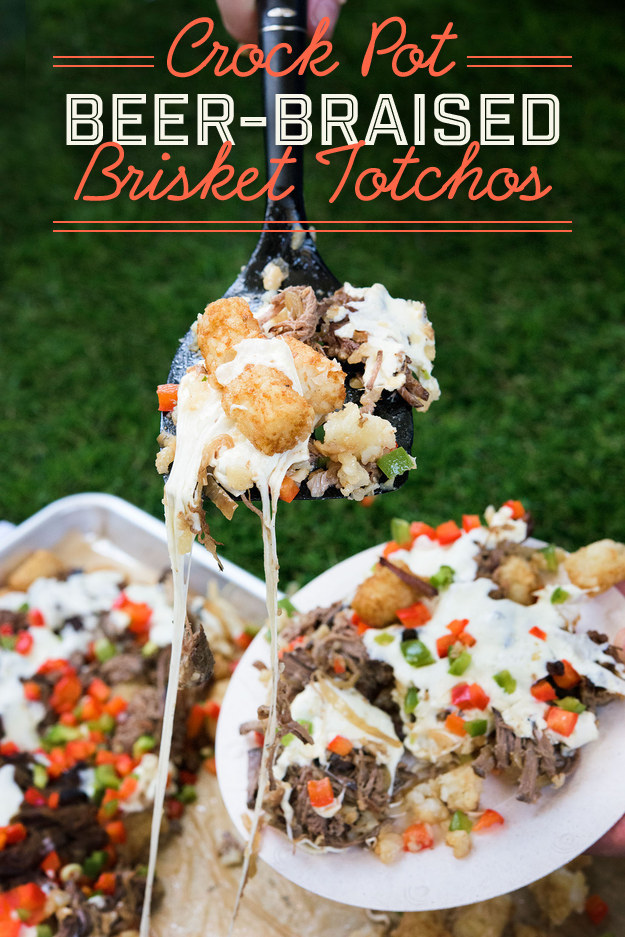 (buzzfeed)
Ingredients:
Brisket-
1 tablespoon brown sugar
1 teaspoon mustard powder
½ teaspoon paprika
½ teaspoon cayenne pepper
2 teaspoons dried oregano
1½ tablespoons kosher salt
1 tablespoon apple cider vinegar
1 tablespoon canola oil
1 pound flat-cut brisket, cut into 6 pieces
1 large yellow onion, thinly sliced
8 cloves garlic, thinly sliced
6 ounces stout beer
1 tablespoon Worcestershire sauce
Freshly ground pepper, to taste
Totchos-
1 (32-ounce) bag frozen tater tots
8 ounces fresh mozzarella, shredded
1 small red bell pepper, finely chopped
1 small green bell pepper, finely chopped
Step One:
Start your brisket. "In a large mixing bowl, stir together the brown sugar, mustard powder, paprika, chili powder, oregano, kosher salt, apple cider vinegar, and canola oil. Add the brisket and toss to coat the meat on all sides with the rub. Wrap the brisket tightly in plastic wrap and refrigerate 12 to 36 hours."
Step Two:
"Scatter the onion and garlic over the bottom of a slow cooker and place the brisket on top. Add the stout beer, Worcestershire, and a few cracks of freshly ground pepper. Cover and cook on low for 8 to 10 hours, until the brisket is fork tender."
Step Three:
"Drain the liquid from the brisket then shred it, still in the slow cooker, with two forks. Cook, uncovered, on high for an additional 30 minutes."
Step Four:
"Preheat the oven to 450°F and line a large, rimmed baking sheet with parchment. Spread the tots out over the baking sheet and bake until golden and crispy, 20 to 25 minutes."
Step Five:
"Spread the shredded brisket over the cooked tots, then top with the cheese and bell peppers. Bake until the cheese is melted and starting to brown in spots, 10 to 15 minutes more."
Step Six:
Enjoy!