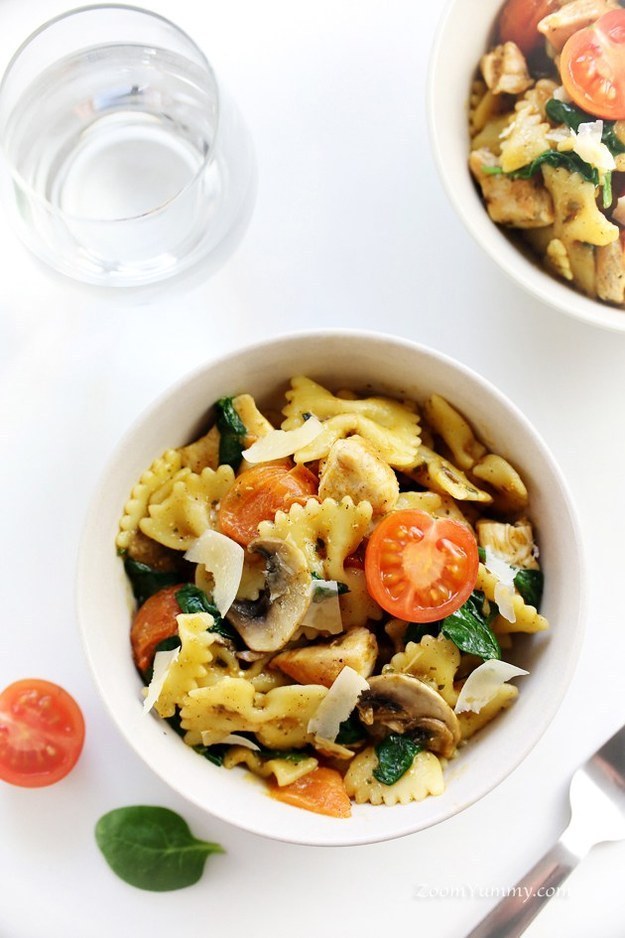 (zoomyummy)
Ingredients:
16 oz (450 grams) bow-tie pasta
1 stick (110 grams) unsalted butter
32 oz (950 ml) chicken broth
2 tbsp olive oil, divided
3 chicken breasts, cut into bite-sized cubes
2 cups (200 grams) sliced mushrooms
2 cups (320 grams) halved cherry tomatoes
2 cups (120 grams) fresh spinach
salt
ground black pepper
¾ tsp red paprika powder
1 tsp dried garlic powder
½ tsp curry powder
¼ tsp cayenne pepper
1 tsp dried parsley
1 tsp dried chives
Parmesan cheese (optional)
Step One:
"In a large pot, melt the butter over medium heat. Continue to cook until it bubbles and turns a caramel brown color."
Step Two:
"Add the pasta to the pot and let cook for about 1 minute, stirring frequently. Add the chicken broth to the pot and stir. Season with ¼ tsp salt, ¾ tsp red paprika powder, 1 tsp dried garlic, ½ tsp curry powder, ¼ tsp cayenne pepper, 1 tsp dried parsley and 1 tsp dried chives. Stir. Simmer until all liquid is absorbed by the pasta, stirring occasionally. If all liquid is gone before your pasta is done, add more water and continue to simmer."
Step Three:
"While the pasta is simmering, in a skillet, add 1 tbsp olive oil and place over medium to high heat."
Step Four:
"Add the chicken to the skillet, season with about ¾ tsp salt and ¼ tsp ground black pepper. Cook until done. Remove the chicken from the skillet into a separate bowl. Cover with foil."
Step Five:
"Add 1 tbsp olive oil in the skillet. Add the mushrooms and tomatoes to the skillet. Season with a little salt. Saute until the mushrooms are soft."
Step Six:
"Add in the spinach and cook until the spinach has wilted."
Step Seven:
"Once all of the chicken broth has been absorbed into the pasta, toss the mushroom-tomato-spinach mixture and the chicken into the pot with the pasta. Stir well to combine. Sprinkle with Parmesan cheese and serve."
Step Eight:
"Enjoy!"