Wedding season is upon us! So whether or not you're doing some last minute planning, or just getting started (or perhaps you just like reading wedding articles, because #same) here is a guide to make your wedding favors a wedding favorite.
What's with wedding favors?
Okay, so do remember way back in the day when your parents would throw you birthday parties when you were in like kindergarten; and they would hang out like little party gift bags at the end with some Dollar Tree pencils, balloons and candy in them? It's kind of like that. You're rewarding people for showing up to your wedding and giving you stuff. At the end of the day, that's what's going on. However, you don't have to look at it that way. Wedding favors are fun, and it's one of the many things that people can look back on as a memento from your awesome wedding!
Who gets a wedding favor?
Well, everyone gets a wedding favor that comes to the wedding. You also have to get gifts for your new spouse, the groomsmen, the bridesmaids, the in-laws, your parents, and why not treat yourself to something while you're at it? Yeah. There's a ton of gift giving when it comes to this whole wedding thing. However, the wedding favors you have more control over when it comes to spending, and what everyone gets.
What should I be spending on a wedding favor?
That depends on you and your budget. Some weddings have ditched the wedding favor entirely considering that most people consider it a bit of a waste, while other people would classify wedding favors as a staple for any good wedding. At the end of the day, the wedding favors are up to YOU.
1. Scratch-Off Cards
Whether you want to spend $1.00 or $5.00 or $15.00 on your wedding favors, scratch-off lottery tickets can be an incredibly fun wedding favor. It's simple, easy, cheap, and something that everyone can get a kick out of. 
2. Something "Punny"
There are a ton of wedding favors that exist solely for the pun that they create. Such as these super fun, cute, easy and cheap ones:

(somethingturquoise)

(evermine)

(evermine)

(dotandbowpaperie)

(somethingturquoise)
3. Gift Cards
This wedding favor might seem a bit silly and outlandish, but it's actually pretty thoughtful. Wrap it up in a cute little "thank you" card, and give it away. You get to control how much you spend on your wedding favors, and people feel like you really want to celebrate their being there. Whether you hook everyone up with a $5 gift card to the local hotspot (like Wawa), or even a Starbucks card--your guests will get a kick out of it!
4. Something Crafty
Heard of this lil' new thing called Pinterest? Okay, in all honesty, seriously, Pinterest is an amazing place and if you're planning a wedding, I understand you probably have already been there and pinned that. Creating your own wedding favors is a fun idea that makes your favors personal. You get to determine your own budget for the wedding favors, and ultimately make something special to you and your occasion.

(livingwellspendingless)

(weddingbee)

(welcomebagshoppeetsy)

(seriouslysabrinaphotography)
5. Personalized Items
There are a ton of websites that will customize wedding favors for you--or you can easily DIY these projects. Whether you want to give away mugs, coasters, or handkerchiefs, personalize it with your new initials, your names, or whatever you want to make it personal for this lovely occasion so that everyone can remember it for the years to come.

(somethingturquoise)

(beau-coup)

(beau-coup)

(woodlandhillsphotography)
6. Something Sweet
More often than not, most wedding favors can be broken, lost or forgotten depending on what it may be--so why not give out something that can be consumed? Who doesn't like free snacks? Cute little desserts, or bags of candy are a lovely way to give your guests parting gifts. It's something nice they can enjoy at the hotel, on the plane home, or simply the next day to keep the party going.

(somethingturquoise)

(somethingturquoise)

(themelideos)

(cuteweddingideas)

(hercampus)
7. Favors that Double as Place Cards
Favors that double as place cards are cost effective, cute and simple!

(bottle openers! maureencottonphotography)

(camillestyles)

(jeramieluphotography)

(thefullboquetblog)
8. Something Seasonal
Depending on the theme of your wedding, you could choose to make your wedding favors seasonal. For the fall you can consider giving out little mini pumpkins, winter could be candy canes, spring could be little eggs with candy inside of them, and then summer could be flip-flops. Whenever you're having your wedding, think about what makes that season special to you and your soon to be spouse, and then give it back to your guests.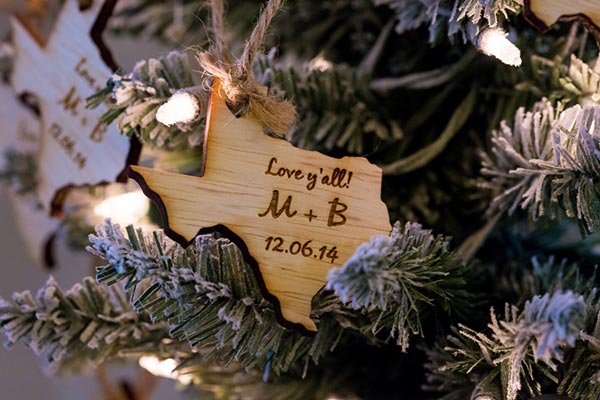 (jenniferweemsphotography)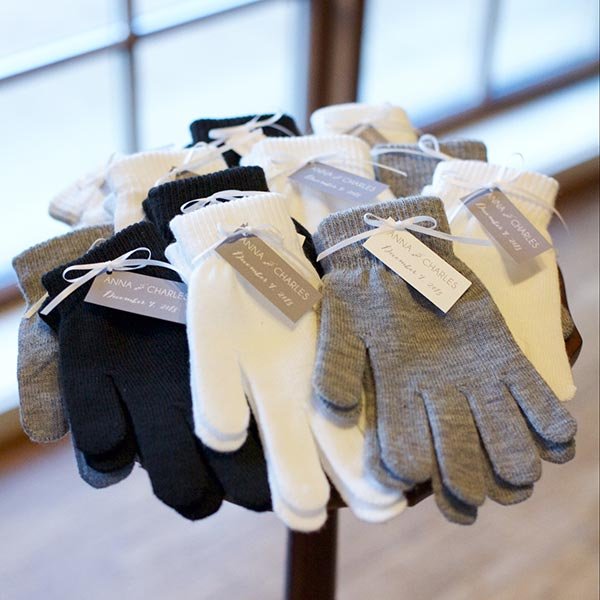 (liveviewstudios)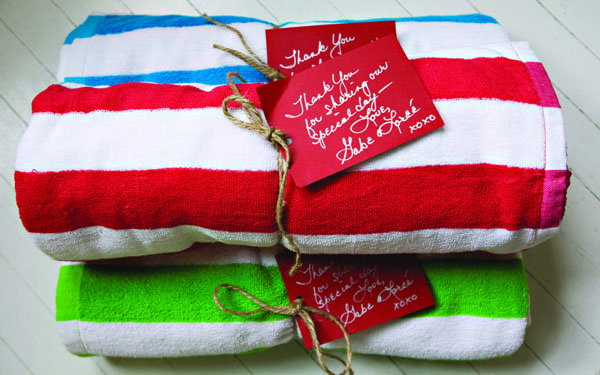 (jennyebert)

(rachelrobertsonphotography)
9. Mixtapes
This might seem a bit dated, because who listens to dang fangled CDs anymore? But at the end of the day, people will find a way to listen to your wedding jams. Put a playlist together of songs that represent you and your special someone, your wedding, or just genuinely great jams that come from both of your hearts. Wrap it in some cute paper, and there you go. Love jams. 
10. "Build Your Own" Wedding Favor
Make your guests work for it a little! Also, this sense of personalization and "control" makes the gift that much more unique. These "Build Your Own" wedding favors can range from candy to little knick knacks to mini build-a-bear stations. You can do whatever you want and it becomes a little activity for people to engage in during the reception. So have your guests fill up a cute little gift bag or box with sweets, toys, bubbles, or whatever you wish to fit your own style.

(jophoto)

(salvatores-chicago)
At the end of the day, the most important part of your wedding is that you and your special someone remember it forever. Pinterest is an amazing place teeming with even more ideas. Good luck. Happy wedding season!