(opusproductions)
CONGRATULATIONS! You found the one. You found the fanciest redneck, the sexiest southern bell, the classiest southern gentleman, a courageous cowboy or a cute cowgirl, no matter who you found, you found the one and that is spectacular that you two want to spend the rest of your lives together. Are you ready for the massive amount of questions, responsibility, crushing long hours, and ton of planning? WELL READY OR NOT, HERE IT ALL COMES! Being engaged is such an odd combination of bliss and indigestion. There are so many things that go into wedding planning. The internet and your family can prepare you the best they can, however, most of the time a wedding's details depend solely on the people planning it. Here are some tips, tricks and notes to survive the engagement and wedding planning.
Questions
You will be asked the same set of questions at least 36 times--and that's just within your first week of getting engaged. Here are some possible questions you may be asked:
-How did he propose?
-When's the wedding?
-Are you sure you're ready?
-Who's paying for the wedding?
-Who's your maid of honor?
-Who's the best man?
-When's the wedding?
-How many bridesmaids will you have?
-How many groomsmen will you have?
-Where are you going to go on your honeymoon? 
-Hold on, you're waiting how long to get married?
-When's the wedding?
-Are you pregnant?
-How long have you guys been together?
-Do you know what kind of dress you're going to want?
-What are your colors?
-How many people are you going to invite?
-SERIOUSLY, WHEN IS THE WEDDING?
I'm sure there are few really golden ones that I missed, but these are basically the questions everyone wants answers to immediately if not sooner.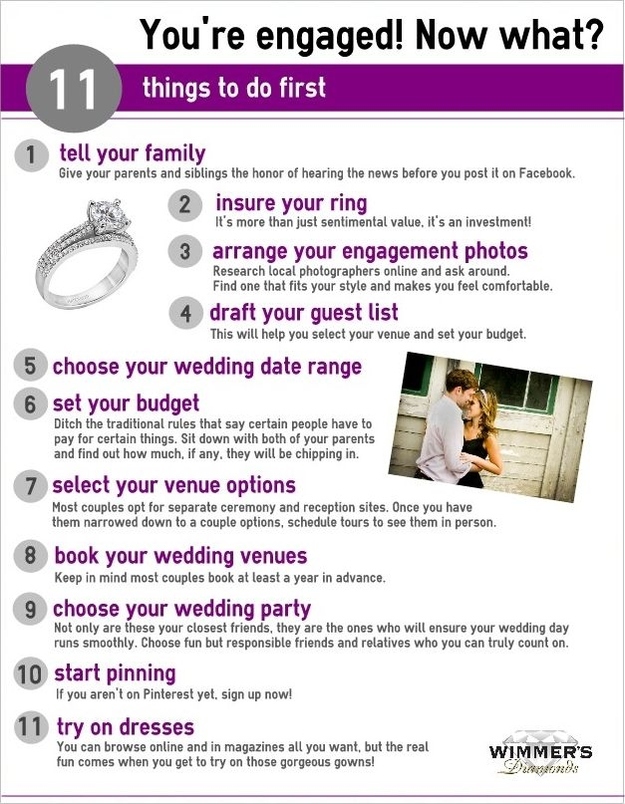 (wimmersdiamonds)
1. Don't Panic.
If seeing that list of questions overwhelmed you, oh honeybunchesofoats are you in for a ride. Don't panic. At the end of the day your wedding is exactly that---YOUR WEDDING. This is a special day about you and your special someone. You'll be able to figure it out. You have a ton of people willing to help you--family members, friends, a wedding planner, or even simply the internet. You have time. You have options. Take a breath.
2. It's Okay To Dream.
A lot of people have a "dream wedding" in mind whether it's this big fairy tale event that they have had a Pinterest board for since they were eight years old, or even simply just a couple of details that they have forever had their hearts set on. It is totally okay to have these dreams and goals and ideas. It is up to you to make them a reality. Sometimes, dreams don't work out--but that's okay! You do whatever you can to keep this wedding a dream of yours. Make compromises when you can, and fight for whatever it is that you need.
3. Making Sacrifices Is Part Of The Experience.
Remember how I just went over how you should fight for what you need? Well, you should also kind of know when to pick your battles. More often than not, you're going to have a final say in what happens at your wedding--especially if you are financing the whole shindig. However, there are those instances where some people that are contributing to the wedding, or are important to you, or are actual professionals with experience with this kind of thing, that will trample all over your dreams, ask for something that you think is ridiculous at the time, or will spend every waking moment of their lives making sure that something happens or doesn't happen at your wedding simply because it's something they want. Whether it's a mother-in-law that absolutely has to have lobster there, the maid of honor that hasn't looked good in purple since freshman year and refuses to wear that color dress, or even the wedding planner looks you dead in the eye and tells you, "You absolutely cannot have a breadstick fountain...how...how would that even work?" It happens. Everyone is going to want their own piece of this wedding cake (haha see what I did there?) and sometimes you're going to have to make compromises and sacrifices that you may not like. For example, if the parents' are paying for the wedding and they want to invite Aunt Helen and her smelly brat children, you might have to suck it up and let the kids and their weird stench come to the wedding. When you do make these "sacrifices" you have to remember something: this is your night that you get to share with people that you hold the closest to you. And at the end of the day...
4. Wedding Guests Only Remember The Food, The Booze, And The Music
Seriously, no one is going to remember the wedding favors, what kind of flowers were at every table, or the giant flower wall that took you three months to make because you saw it on a Buzzfeed list and absolutely had to make it because you wanted a DIY wedding. Details like these should absolutely be important to you, but don't sweat the small stuff if you don't have to.

(weddingshoppeinc)
5. Write Everything Down.
Whether you are a note taker that needs a spiral bound notebook, an Excel sheet or a word document, figure out a system that works for you that allows you to keep track of all of your wedding planning. This will actually make your life much easier, believe it or not. If you have a detailed record of your planning, it will save you a lot of time in hassle in the long run. Keep track of it all so that you can refer back to it. Need to contact the venue because you have a guest list change? Boom you have the person's contact information on your Excel sheet. Wondering where in the world your bridesmaids' dresses are that you ordered? Check the tracking number you had saved in your word document. Keep track. Keep every single receipt. It's better to have it all then have nothing.
6. Make A Timeline.
No matter if you are getting married six months, a year or two years from the engagement, you should make and keep track of a timeline for your wedding planning. This way you can see when you need to have tasks done.

(energyphotographic)
6. There's An Infographic For It.
I love the internet. It's a beautiful (and sometimes horrible) place that is full of wedding help. It's a lot to slog through bridal magazines and wedding blogs--so sometimes browsing Pinterest and finding infographics with tons of really great information is a lot easier. They are also super helpful when you are showing it to a person that is involved in the wedding planning, but isn't very detail oriented. Look, sometimes grooms aren't exactly gun-ho about wedding planning--but looking at a fun picture can be informative and easy to look at!

(buzzfeed)

(bridestory)

(berries)
7. Budget!
Weddings cost a crap ton of money. There are so many things at play when it comes to having a wedding. Did you know that 23% of wedding budgets go to just flowers? Well that's a made up statistic, but it sounds pretty accurate right? That's because people blow a ton of real, factual money on flowers that will be dead halfway through the reception. Come up with 3 budgets:
1. The Dream Budget--which isn't a budget at all. Come up with all of the things, number of people, and details that you want your dream wedding to have.
2. The Scale Down--this is your first budget. Now that you have a reality to face of what money you actually have to work with, see how you want to cut your budget up. Are flowers absolutely not important to you, but you still think you might want your bridesmaids to hold something (although I am definitely a supporter in bridesmaids holding puppies instead of flowers)? Contribute 2% of your budget to flowers, while you know that the food will be super important to you and your family and will get 45% of the budget.

(bridalmusings)
8. Your Gift Registry Shouldn't Be Treated Like A Christmas List.
That sounded much harsher than I wanted it to, but I hope you get what I'm trying to get at. The idea of people getting you tons of super cool stuff is an amazing one, however you really have to be realistic about what you need and what you want. A lot of power will rush to your head when you're at Target or Nordstrom and you're holding that price gun to scan all of the super cool things in the store to go on your registry! Both of you should sit down and figure out what you want, what you need, and what people can afford to get you. Also, register somewhere that you actually shop or can benefit from! Amazon is great because the registry comes with deals (for example, if you put a Keurig coffee maker on there and someone buys it, Amazon will throw in a month's worth of coffee for the Keurig). For those reading this that know someone with a registry that may be out of your "price range," check to see if you can get the same product somewhere else. (Have those obnoxious Bed, Bath & Beyond coupons? Utilize those!).

(popsugar)
9. You Have A Million And Eight Food Options--Be Realistic.
Your venue may have catering options for you (example: the venue can charge you $94.00 per person, but that will include a full buffet of food, appetizers, cake, bar, etc.), your friends may know a guy, you can also take on the giant task of making your own food. Whatever you choose make sure that the food is good, in budget, and that you can handle it.
10. Relationship First. Wedding Second.
If people put a fraction of the time, effort, Pinterest boarding, agony, blood, sweat and tears that they do into the relationship as they do wedding planning then most marriages nowadays probably wouldn't end in divorce. Getting married and having a wedding is so splendid, fun, crazy and spectacular. The details that go into it are so important, and the day itself will be in your hearts for forever--but make sure that after that fairy tale day is over, that prince and princess charming can continue to live happily ever after. Take silly relationship quizzes and learn your love languages, try to find out something new about one another every day up until the wedding. Pick a new hobby to learn together--start a new TV show every few months. Keep the relationship strong.