This is not about the romantic comedy starring the forever extremely handsome Ryan Reynolds. This is about the big question between two very special people: "Will you marry me?" or any variation you find yourself attracted to. Here's a guide for cowboys and cowgirls as to how to pop that perfect question.
Do's and Don'ts:
DO
Make it special. This is an important and romantic moment, but it's also a major life decision for the both of you.
DON'T
Don't rush into things or drag your feet. As mentioned previously, this is a big decision for the both of you to make. Are you ready for this commitment? Is this something long overdue? What have you been waiting for? What else do you need? What else does he/she need? When the moment is right, you'll know. Now, no one can really tell you when it's a good time to get engaged no matter what the old grumps or fairy tales say. Some people consider the best time to get engaged is after being with a person for a few years, settled into a nice house with a white picket fence and a career that brings in at least $65,000 a year. However, others (myself included shamelessly) sometimes it's just about how two people feel about each other. I know how lame and cliche that may sound, but at the end of the day you click with one person. You come close to that click with some people, but there's really only one person that you really, fully click with. People are like puzzles. All of the little jigsaw pieces come together to form something greater. Those pieces are memories, experiences, and other people ranging from family, friends, lovers and foes, but there's only one person, that missing piece, that brings the whole picture together to complete you.  
DO
Get some ideas. Go on Pinterest. Ask your engaged friends. Ask your prospective fiancé's friends or family. This will help generate your perfect plan. 
DON'T
Don't ask empty handed. I know this sounds incredibly "douche-y" but according to several surveys, all of the wedding sites, and many pissed off, passive-aggressive brides asking without the ring can seem like you're unprepared or didn't put as much time and effort into the moment as you could have. If you couldn't afford a ring, this may be a factor you should consider when it comes to the engagement idea. Now, let's say you can't present her with a ring. Check your other options. Can you present her with something else like a necklace, promise ring, Boot Bling, etc? 
DO
Go big or go home. This could mean many things. This could mean making the engagement an all out event, or going big on the nostalgia factor. Either way, make sure that this moment is one of the biggest for the both of you next to the actual wedding and perhaps your children. 
DON'T
People are going to be super stoked for you and shower you with praise, congratulations, advice and perhaps even actual gifts--which is never a bad thing. However, there are going to be THOSE people that are going to be less than thrilled that you've popped the question or said yes to the question. These people can vary from relatives that don't think you're ready for marriage or your jilted best friend that never got around to telling you how he feels about you. No matter who that person is, don't let him/her ruin this for you. Be happy. (Unless someone tells you, like, "Hey, your fiancé is a serial killer. Like, legit, bodies in his basement." Then consider going about this with caution.)
DO
Traditions. There are some traditions to this engagement game that still may be considered important to a lot of people. Think about these traditions and which you are willing to do. The most popular one is the groom asking the bride's father for "permission" before popping the question. Now, personally, I think this is a cute idea because it's shows that you want the girl bad enough that you'll do anything for her, even if that is tackling the obstacle of asking her scary father if it's okay to take her hand. It also kind of sets the guy up for failure though, because sometimes it's hard talking to a girl's dad. No matter what though, it's a respect thing. Ask the dad, at least 7 times out of 10 he won't kill you.
DON'T
When it comes to celebrating the engagement, don't feel pressured by family or even your own eagerness to show off and celebrate to have the engagement party the weekend after you get engaged. Can you? ABSOLUTELY, YOU DO YOU, IT'S YOUR ENGAGEMENT! However, "studies" (and I say that to legitimize my internet blog post, but I really mean from the many stories I have read on The Knot, Pinterest, Facebook and several real life lady sources) show that waiting to have the engagement party any time between 1-3 months after getting engaged is best. This allows you time to do a lot: just simply enjoy being engaged, plan out some details (because people are going to ask you A LOT of questions you don't have the answers to at the party), who's going to make the guest list for the actual wedding (kind of bad form to invite someone to an engagement party, but not the actual wedding), what kind of engagement party you want to have, set up a registry, etc. 
FACTORS TO CONSIDER:
Here are some things you may want to consider when it comes to how you want to go about getting engaged.
1. What kind of engagement do you want? (several ideas are listed below)
2. How much money do you want to spend on the engagement?
3. Who do you want to involve in the engagement? (Will it be a big family affair? Do you need an audience? Do you need the employees of your location to help you out? Do you need a confidant like the sister of the bride or best friend?)
4. What do you need in order to execute your plan? (location, supplies, reservations, flowers, etc.)
5. When do you want to get engaged? (What time of day? What time of year? What season? Day of the week? During a specific holiday?)
6. Where do you want to get engaged? (Is there a special destination or place that means something to the both of you? Are you willing to travel?)
ENGAGEMENT IDEAS:
1. Destination Engagements
Wanna go somewhere super special to pop the question? Consider these destinations.
1. Disneyland or Disney World
Disney actually has entire website dedicated to engagements and engagement planning. Buzzfeed has done articles about it. Disney is considered to be the happiest place on earth, so if you and your fiancé to be are into that kind of thing, make it a magical day at one of Disney's many parks. You can get the park involved or just do it yourself!
2. The beach
Go seaside and propose in the sand or right by the ocean. The setting is romantic and it's super simple.
3. Near a tourist trap
Places like the Hollywood sign, the Statue of Liberty, Eiffel Tower, Leaning Tower of Piza, the Empire State Building, or anywhere else you kind find a fanny packer taking a photo might be a fun spectacle for an engagement.
4. The great outdoors
Find yourself on a hike, camping, or perhaps just a romantic stroll through the woods. Let the trees, wind, and woodland creatures create the setting.
5. Theme Park 
Can't afford Disney or just not into giant mice? No worries. Check out Six Flags, Dorney Park, Sea World, zoos, etc. Go out for a day of fun and splendor!
2. Activities: 
Doing activities and going on a fun date sets a perfect mood to ask the question. Consider these date ideas and activities.
1. Horseback riding
2. Dinner and a movie (perhaps make it a home cooked meal of favorites and her favorite movie, a fancy restaurant and the newest blockbuster at the theater, etc.)
3. Stargazing
4. Build a blanket fort together
5. Go to the zoo
6. A picnic
7. A scavenger hunt
8. Make paper plane love notes and throw them at each other while you wait for a pizza to be delivered
9. Create a playlist of songs that are special to both of you and slow dance and jam out
10. Go out and get or stay at home and give each other the spa treatment (massages, candles, steamy shower, etc.)
11. Actually Netflix and chill (yeah, we know what the kids are really up to when it comes to the "Netflix and chill" date, but it's actually a great date idea. Set up a que with a theme: binge a few episodes of a new TV show you both wanted to watch, horror movies, enjoy a couple of episodes of each other's favorite TV shows, RomComs, "bad" movies, etc. Cuddle up with a blanket and an array of snacks and enjoy! You get to spend time close to each other, learn a lot about one anode there AND watch some entertaining stuff.)
12. Bowling
13. Go to an arcade and earn enough tickets to get each other prizes
14. Play games! (this is fun to incorporate alcohol and stripping too if you feel so inclined. Best games: poker, Boggle, Trouble, video games, etc.)
15. Shooting range to fire off some shots
16. Go camping (hike, build a campfire, stay in a cozy trailer)
17. Find some "Free Day" stuff to do (make a list of local events or locations that have freebies)
18. Tastings (whiskey, wine, cheese, cake, etc.)
19. Make a trip to a quirky destination (Pick a funky or interesting destination whether it's the next town over or a classic tourist trap, jump in the car and make a day trip out of it. Don't forget to bring a camera!)
20. Seasonal adventure (pumpkin picking/carving, berry picking, picking out/chopping down a Christmas tree, beach day, etc.)
21. Concert
22. Karaoke
23. Explore a city (check out tourist destinations, the best shops and place to eat, etc.)
24. Shop at a flea market
25. Do DIY projects together
Check out some more ideas here, here, here, and here. 
3. Nostalgia:
Make it an unforgettable night with the memories that brought you both to this point in the first place.
Go to the places of or recreate your first...
-Date
-Kiss
-Dance
-Anniversary
-Specific activity (For example, the first movie I ever saw with my boyfriend was Mad Max: Fury Road and that was before we started dating)
-Homecooked meal
4. Food:
Classic. Proposing with a girl's second biggest love: FOOD.
This is a cake.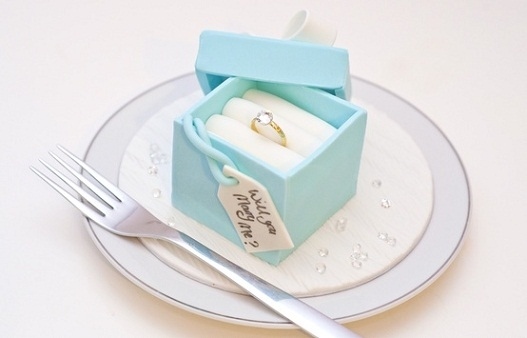 (gccouture)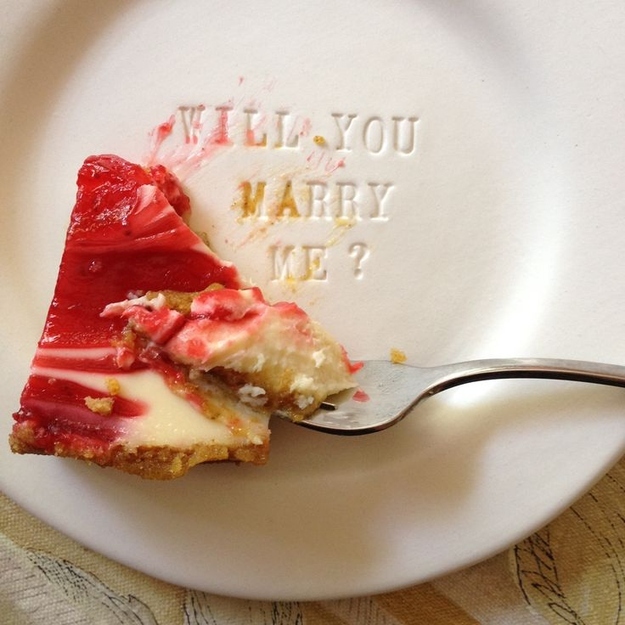 (palomasnest)
5. During an Event
-Sporting Event
-Movie
-Concert
Check out more ideas here, here, here, here and here.