Weddings are incredibly special, beautiful, fun, tedious and EXPENSIVE. It's your special day, and a fairy tale moment. So, how can you have your perfect wedding without breaking the bank? Here are a few tips that will hopefully help soften the budget!
1. DIY
You can spend 12 minutes on Pinterest and find hundreds of amazing DIY ideas from wedding decor, invitations, recipes, recycling, etc. Doing projects yourself instead of shelling out the cash for wedding favors, decorations or what have you, it can be much cheaper to buy supplies in bulk in order to craft the items yourself. This not only is fiscally responsible, but it really adds a personal touch to your special day.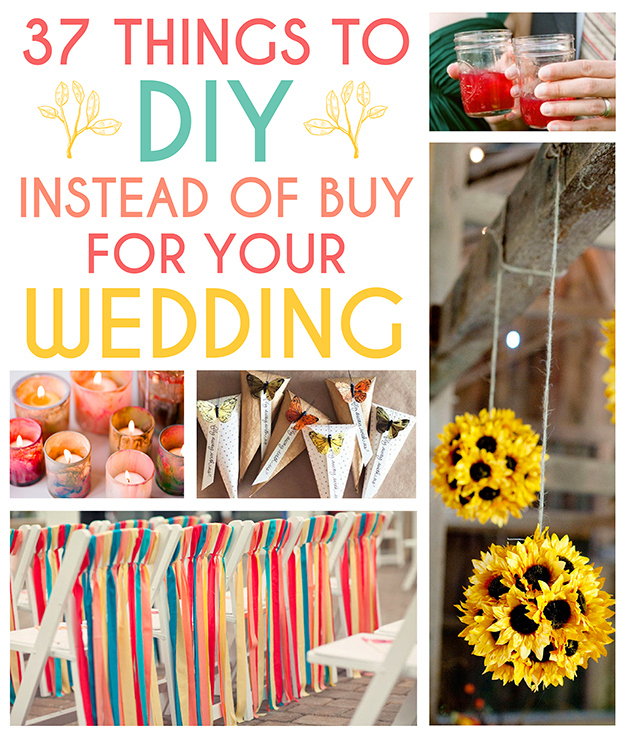 (buzzfeed) 
Invest in a Cricut. Seriously. These things are magical and can do ANYTHING. You can do all of your decorations, thank you cards, invitations, name cards and more with this device. 
2. Write up a budget. Start planning early. 
After you're done replying to all of the Facebook comments, texts and carrier pigeons sending congratulations on the engagement, start planning. When it comes to your budget (I recommend Microsoft Excel, but I'm a nerd. There are a ton of apps you can use specifically for wedding costs if you're more into that!), outline your dream wedding first. If you could have everything you wanted from guests to cake to decorations to location, what is that you want and what is it that you're looking for? After you get that out of your system, start downsizing to realistic expectations. After that, decide on the number that you would wish to spend (we'll go with $5,000-$10,000.) Once that number has been selected, assign an amount to an item (for example: $2,500 to venue, $1,000 to dress, $1,500 to bridesmaid dresses, $2,000 food and drink, etc.) Keep track of your spending and prioritize. Also, the earlier you start the easier it is to book cheaper venues and other things.
Wedding Cost Estimator

(swankywedding) 
3. Something borrowed.
Whether you can rifle around in your grandma's attic or a Goodwill, sometimes borrowed is better. You can recycle anything from dresses, jewelry, or decorations. Save on costs by seeing what you already have available to you.

(weddinglovely)

(weddingtonway) 
4. Shop online.
Shop online for deals, sales, and items you may not be able to find in stores. Shameless plug here, but Redneck Couture has beautiful, handmade jewelry for brides and bridesmaids that won't take a massive chunk out of your budget and shipping is FREE. They make for excellent accessories for the bridal party or for a gift!


Recycle Your Wedding 
29 Places to Shop for Your Wedding Online

5. Printables!
Some people make it their duty in life to create fantastic printables for any and every occasion from place mats, name tags, invitations, to activities, game boards and more! Printables can range from being free to $3.00, but are worth it instead of blowing hundreds of dollars on invitations, thank you cards and other stationary and decoration needs.

(everythingetsy)
31 Free Wedding Printables
6. Bridesmaids and Groomsmen get to dress themselves.
Spending money on bridesmaids' dresses and suits for the groomsmen can be stressful for anyone that's spending money on it. Select a color that you're into and instruct your bridal party to get a dress of any kind in that color. That way they can spend whatever they want on a bridesmaid dress and it won't cost you a dime. You can perhaps invest in an accessory that unifies all of the bridesmaids (perhaps Boot Bling, necklaces, little clutches, a DIY piece of jewelry, etc.), but ultimately you can let them select and worry about their own outfits. 

(pinterest)

(chicvintagebrides)
4 Things to Remember If You Let Your Bridesmaids Pick Their Own Dresses
Why Letting Your Bridesmaids Pick Their Own Dresses Can Work
3 Things You Can Let Your Bridesmaids Choose
7. Non traditional gifts.
"Thanks for the solar powered shower head, Aunt Deborah!" said no one ever. Going the traditional wedding registry route is a good idea (get everyone else to buy you dishes, kitchen appliances and that fancy quilt from Bed, Bath and Beyond); however, sometimes people will try to get you something similar to the things you ask for and you end up with stuff you don't need or already have. Asking for help with wedding costs, or sometimes just cold hard cash money may be a nice alternative to consider.

(sheahomes) 
8. Food and Drink.
Explore and keep your options open. Almost all budgets take the biggest hits when it comes to venues and the food and drink options. Buffets are a nice way to save on food costs. Making your own appetizers are a good idea as well, for most places gouge for that. Come up with a signature drink for the bar instead of having an expensive open bar. You can also do a BYOB or pot luck wedding.

(ashleysbrideguide) 
9. Plan for the honeymoon in advanced.
Start a honeymoon fund (a jar in the kitchen or perhaps even a honeyfund) or invest in a credit card to use for all of your wedding costs that can reward you with miles or rewards for travel such as car rentals, resorts, hotels, etc.

(forevermoreevents)
10. Ask for help.
Whether you want to hire an expert (most of which will try his/her best to save you as much money as possible so that you can pay him/her more), ask Mom/Dad, your best friend, or even just the internet. Seek out help for costs, funds, money, ideas, and ways to make your wedding planning easier or less stressful. Take all of the time you need. 
26 Ways to Save on Your Dream Wedding
Cheap Wedding Ideas
21 Clever Tricks to Make Any Wedding So Much Easier
47 Ways to Have an Almost Free Wedding
17 Useful Wedding Cheat Sheets