"Wedding Season" is coming to a close and now the holidays are upon us. There are a ton of really awesome wedding traditions, but the times are changing, budgets are smaller, and dynamics are different. Here are some really rad wedding alternatives and twists on traditions:
Flowers:
Faux or No Flowers
Most wedding budgets devote 15%-20% to flowers--centerpieces, bouquets, etc. If you want to ex on the flowers all together, you'll save a giant chunk of change and probably some aggravation as well. There are alternatives to flowers to have as centerpieces and even something to have in your hands as a bride or bridesmaid. You can also make your own bouquets with fake flowers (Dollar Tree and Michael's Craft Store have a beautiful arrangement of flowers you can choose from without breaking the bank.) to create the ideal bouquet without having to worry about season, what's available, budget, or care. Plus, you can keep your bouquet from your special day forever.
(weddingchicks)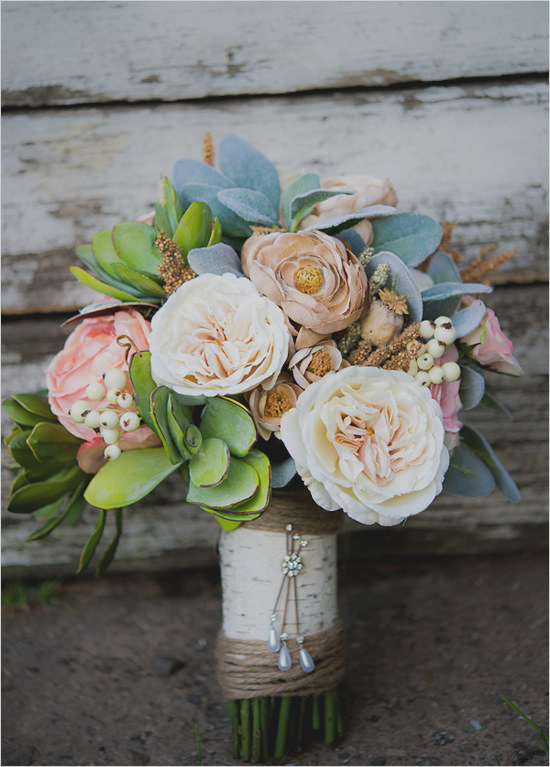 (weddingchicks)
Burlap Bouquet
Simple and rustic!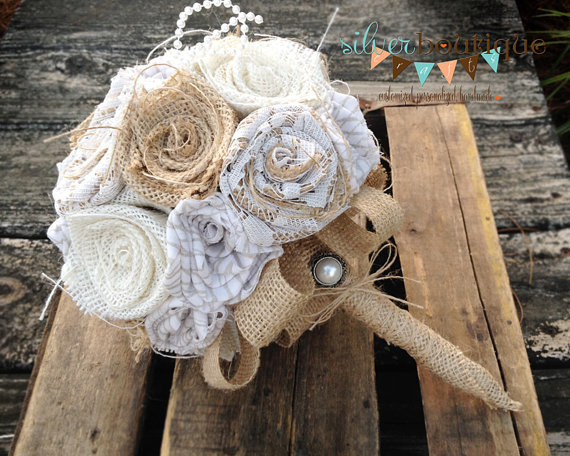 (etsy)
(destinationdecoration)
Homemade Paper Flowers
Create simple paper flowers! The possibilities are endless with this one. You can make paper flowers out of construction paper, cardstock, glitter paper, or even out of the sheet music, or the pages of a book that means a lot to the both of you. Paper flowers are fun to make, and there are countless tutorials all over the internet as to how to make them--for cheap!
(100layercake)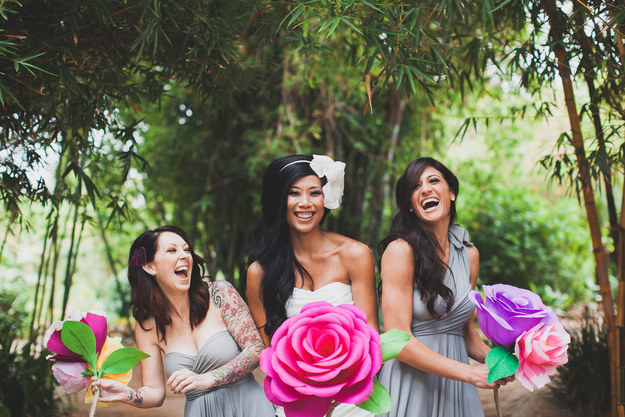 (studiocasterillo/buzzfeed)
Felt Flowers
Cute, Quirky, and durable.
(somethingturquoise)
Origami Fabric Flowers
Create simple fabric flowers out of your favorite designs. We dare you to try denim!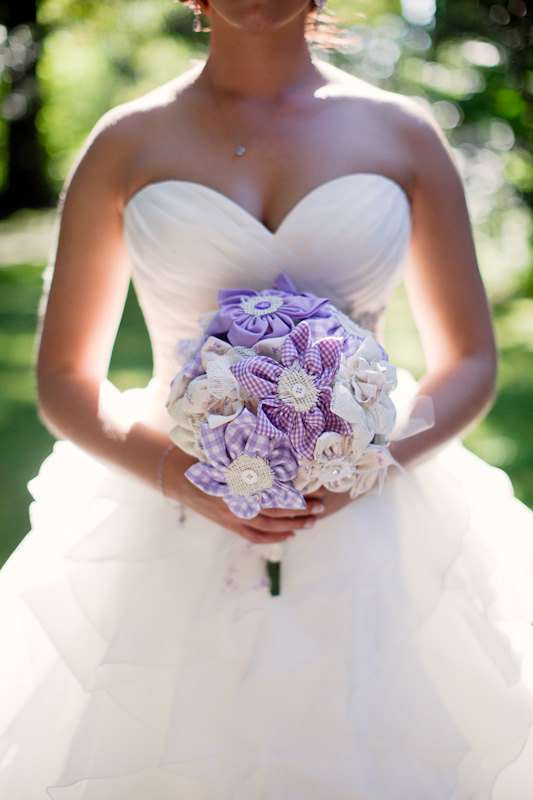 (darylndax)
Fans and Parasols
If you're having a spring or summer wedding, fans and parasols are perfect alternatives for bouquets. Your guests may also appreciate fans at their tables.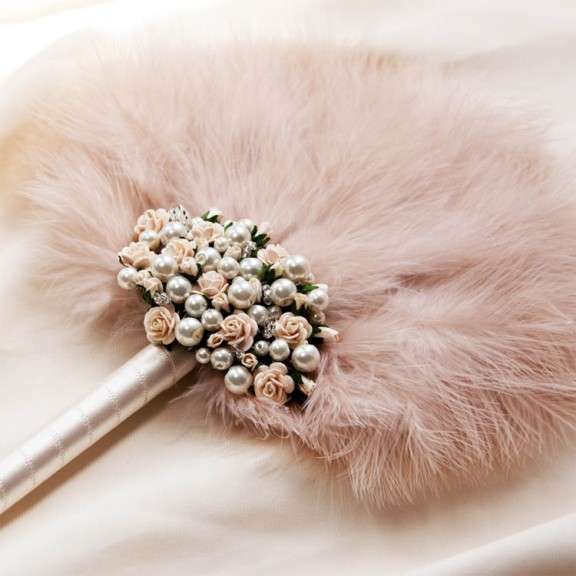 (britten)
(marthastewart)
21 Stunning Non-Traditional Wedding Bouquets
7 Great Ideas For Wedding Flower Alternatives (Plus One Really Terrible One)
33 Alternative Bouquet Ideas for Non-Traditional Brides
10 Beautiful & Creative Alternatives To Traditional Bridesmaids Bouquets 
27 Breathtaking Alternatives To a Traditional Wedding Bouquet
Gifts:
When it comes to gifts, things can get complicated--when it should be pretty simple. Some couples now are getting married after having lived with each other for a while--most individuals already have a whole bunch of plates, bowls, and even a blender--please do not get a couple two more blenders and three and a half toasters. If the item isn't on the registry, don't get it. However, some couples are afraid to ask for obvious gifts like CASH MONEY, etc. Here are some cool gift alternatives.
CASH MONEY and Gift cards
There are a lot of fun and creative ways to collect money and gift cards at weddings. Cash and gift cards allow the couple to use your gift in a way that will be personally helpful to them. It allows them to choose that third toaster for themselves, or perhaps help them with costs in the future. Gift cards are a bit more personal than just a straight up $100 bill or $2,000 check. Couples, if you are willing to receive these gifts, make sure your guests know! You can mention on your wedding website, or even on the invite itself that you are looking to shop at certain places, or if you would prefer cash. You can even put gift cards on some registries like Amazon.
(apbentertainment)
Honeymoon Help
So, you just dropped $10,000 on a wedding, now it's time to drop another $5,000 on your honeymoon, yay! Not so much. Find out how guests can help lighten the cost of your honeymoon. You can have guests donate to a Honeyfund or even offer to cover certain expenses like the rental car, hotel room, or airfare.

(honeyfund)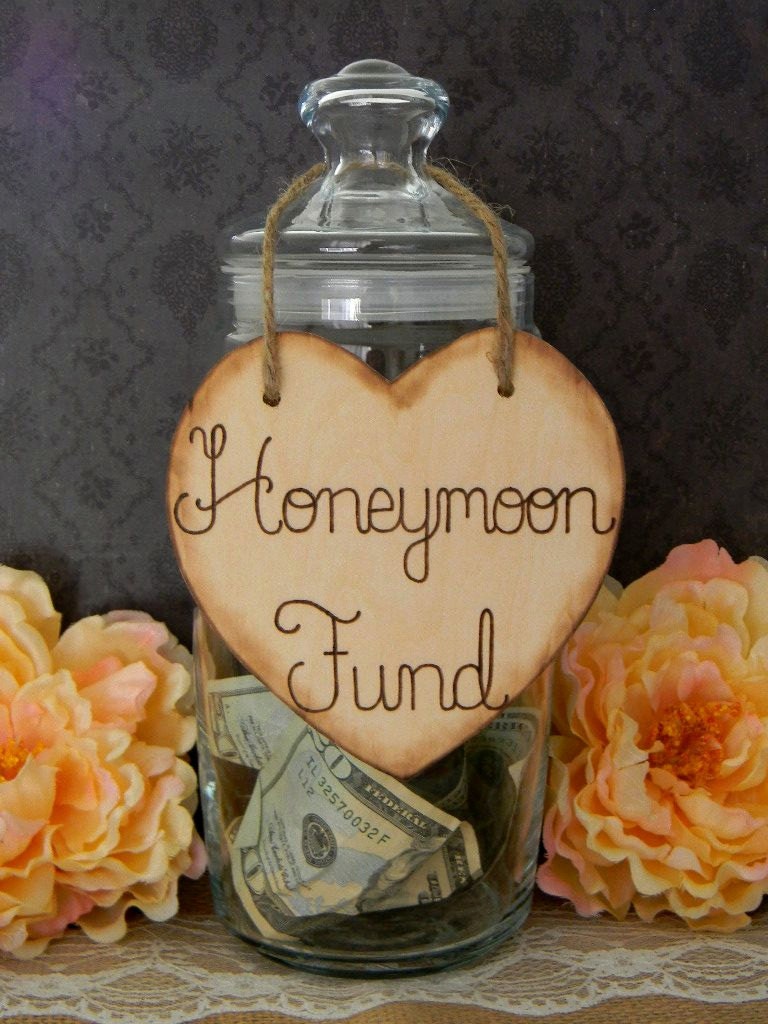 (honeyfund)
Wedding Expenses
Sometimes you just want a nice wedding and the toaster is just a cherry on top. See if you can find guests to help cover some wedding costs or that will chip in some money to pull the whole thing off in lieu of a gift. 
The Food:
The thing that wedding guests will remember from your wedding will probably be three things: the venue, the music and most importantly THE FOOD. Food is an important component in any gathering and get together. Here are some food alternatives or options to consider to help keep you on budget, or put a personal touch on your wedding.
Big Buffet
Buffets seem a bit informal, but oh my goodness does it save you a ton of money and people actually appreciate having options not only when it comes to what they can eat, but how much they can and when they can. Your options for choosing a menu are pretty endless too. You can serve foods that mean something to you as a couple, or just go big in the best party foods.
(oliveinlove)
Pot Luck
Now, this one is a real big "alternative" but some folks are actually partaking in the pot luck wedding now. Some individuals with massive and local families find it easier, as well as much more satisfying, to host a pot luck where the food is provided for the guests by the guests. That way Grandma can make her famous mashed potatoes, and Uncle Herman can bring his beloved candied yams. And you just have to provide a cheese and cracker tray.
(bloominwedding)
Breakfast, But For Dinner
Choose an alternative food for dinner. Yeah, you could totally shell out $75 a plate for some fancy salmon and chicken, but who would turn down some scrambled eggs and pancakes?
(elizabethannedesigns)
_____________ Bar
This is kind of the same idea as a buffet, in the respect that it is stylistically buffet, but it is a "create your own." You can have a breakfast bar, sandwich bar, Italian bar, taco bar, etc. There are sweet bars as well (almost pun intended), but I'll get to those soon. This bar idea allows people to create their own dining experience and it fills them up quickly with plenty of personalized options.
(rootedinloveweddings)
(brendasweddingblog)
Dessert:
People are ditching the wedding cake nowadays. Now this is a big traditional item that plenty of people won't ditch, but if it's not for you or your budget, it's good that you have plenty of other options.
Cupcake Tiers
Cupcakes are tiny, cute, and they're still cake. These are also a cheaper, and easier to proportion for guests than cake. (stylemepretty)
________________ Bar
Ice cream bar, candy bar, sweet treats bar, etc. This allows your guests to satisfy their sweet teeth on their own terms, as well as gives them an opportunity to take something sweet home with them.
(sweetesbakeshop)
(weddingpaperdivas)
Pie!
Yeah. Rejoice. There is such a thing as a wedding pie. (somethingturquoise)
Fondue
Yeah, this one may be a disaster, but if you have a small wedding, you can afford to get a few tables a melting pot and melt together. 
(pinterest)
Donuts
Put a frosted ring on it.
(emmalinebride) 
21 Beautiful Wedding Desserts That Are Better Than Traditional Cake
Nontraditional Wedding Cake Ideas
Delicious Wedding Desserts That Aren't Cake
10 Alternatives to Wedding Cake
Fashion: 
It doesn't occur to a lot of people that there are a lot of traditional "costume" rules to this whole shindig. From the bridesmaids' dresses, to the boutonnieres here are some excellent alternatives to wedding fashion.
Cinderella Had a Glass Slipper, But This Is Your Fairy Tale
When it comes to shoes, wear something that is comfortable. If you want to buy a pair of heels and spend two weeks breaking them in so that you can dance and hang out in them for hours on your special day, you absolutely go and do that. However, if you want to wear flats, sneakers, cowgirl boots, or even flip flops. Wear the shoe that fits you literally and figuratively. Plenty of rustic brides wear boots with their gowns, keeping them in their country roots.
(redneckcouture)
(pinterest)
Bridesmaid Dresses: Pick a color, not a dress
Bridesmaids' dresses are expensive. You don't want to have to pay for them, and you don't want your girls to have to pay for them. Instead, consider choose a color scheme and relative design that you like. This allows your bridal party the ability to choose their own dress that they feel comfortable in, and everyone will still match.
(brides) 
Matching Jewelry
Let's say that you do go with the different dresses, same color idea. Sometimes it's nice to have some more uniformity to that. Think of matching jewelry for you and your bridesmaids. You can get necklaces, bracelets, or Boot Bling!
The Dress
Traditional wedding dresses are fairy tale, ball gowns that are gorgeous, but something you'll definitely wear once. When you are looking for your dress, find the dress that fits you the best. Find a dress you can celebrate in, and something you wouldn't mind hanging in your closet for decades, dusty--or alternatively, a dress you can wear again if need be. Check out here, here and here for some ideas!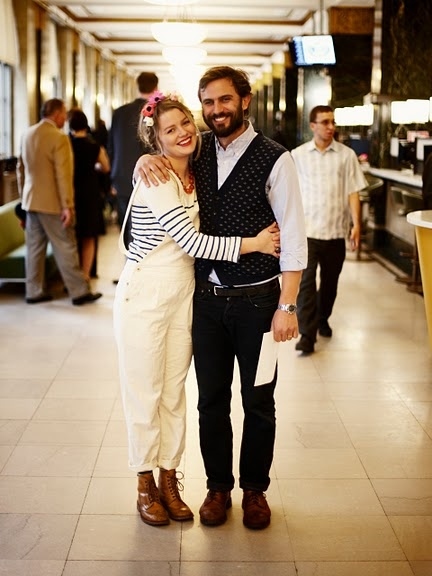 (cupofjo)
(pinterest)
(weddingpartyapp)
(alanaallanwedding)
Buttons over Boutonnieres
Create cute buttons for the groomsmen to wear in lieu of boutonnieres.
Etc:
There are some wedding details that are become traditions, or are fun little tweaks on the idea.
Activities for guests In lieu of centerpieces
Weddings are full of strangers. Most people that you seat together are split in the middle with knowing one another. So, sometimes having a giant mums centerpieces between them can be a good thing because half of the table is disconnected from itself. However, weddings are social gatherings. May as well have some fun while stuffing faces!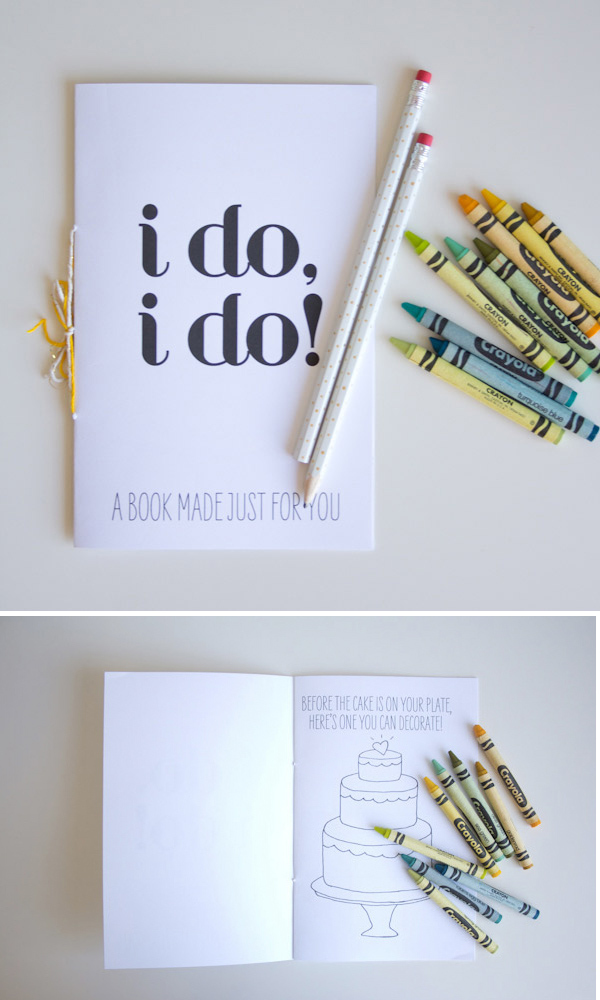 (lovelyindeed)
Incorporating animals into your wedding party
Man's best friend can also make for excellent members for the groom's and bridal parties. Some people even have their dogs take the ring down the aisle.
Have a photo booth
Your photographer is going to be incredibly busy, so have an area that's fun and decorated so your guests can take fun photos on their own and have them share the memories forever with you. You can even come up with a hashtag for your wedding to keep track of photos on social media. 
Check out these other links for some more alternative ideas!
12 Creative Wedding Alternatives
23 Unconventional But Awesome Wedding Ideas
31 Impossibly Fun Wedding Ideas
Ideas About Alternative Weddings