On June 14th, 2016, I went to the beach for the first time by myself as a 21 year old woman. When I say "by myself" I mean I went with my boyfriend and our two very good friends, but we had no real "adult" supervision. Now, our ages range from 21 to 24, but for some reason, we're not entirely real "adults" yet. Perhaps it's because we're students, perhaps it's because we're the Peter Pan generation. The moral of the story here is: this was an adventure.
Here are some things that I learned when prepping for the beach trip, going to the beach, and post beach. These are things from hair brained ideas of my own to internet hacks to advice from family members. Here's what worked, what didn't and what I would have done differently, and hopefully this will not only entertain, but enlighten.
MY BRIGHT IDEAS
Pack the night before.
I'm a professional panicker. If I could put it on my business cards I would--but then it would be spatially unpleasing to look at and I would panic about that, it's a vicious cycle. So, I thought I should pack everything that I needed the night before, that way I could scramble around less at the last minute. This allowed me to check, double check, as well as make sure that I had everything that all of us could have needed or wanted.
DRAMATIZATION:

(organizedchaosonline)
Unpack the morning of.
Remember that professional panicker thing? Well, it causes me to over prepare. Our beach bag was packed for nuclear apocalypse survival more than for a day of fun in the sun. It was so much easier and faster to take out extra stuff that we may not need than it would have been running around trying to shove stuff into a bag that morning.
Clearance shopping.
I'm pigmentally challenged--super, duper pale. I don't do well in the sun. I wanted to get a floppy hat to go to the beach with to go along with my ridiculous beach outfit. (I wear stockings and a hoodie and it's my "I wouldn't blame my mom for telling people I was adopted if she was caught with me in public while I was wearing this" outfit) So, the gang and I went to Target the afternoon before the beach. I found a floppy hat in their front section by the doors for $5. We shopped around a bit for snacks and such and I found my way to the clearance section because I'm a sad, broke college student. Here's where the awesome idea comes in. There were picnic blankets, table cloths, and bath towels on clearance. I bought a 6ft x 8ft table cloth (with these cute foxes eating ice cream), a 6ft x 6ft picnic blanket, and two fluffy bath towels that were 5ft x 2ft, and two pillows for $17. Instead of purchasing beach towels, for $10.99 each, I bought all of the coverage we needed for less than the price of those two towels. The clearance options are not only cheaper, but it allows for kind of a sense of lack of responsibility. If the table cloth gets ripped, we have to leave it behind, etc, I don't really mind because it was only $1.98. I have to fly back from Los Angeles, to Philadelphia. If I had bought $22 worth of beach towels, you bet your diggity darn bottom dollar that I was going to pack them up and bring them home no matter how inconvenient! However, these clearance items were cheap, multi purpose and were things that we didn't have to necessarily keep--even though that's what we ended up doing. I also highly recommend bringing pillows to the beach for maximum neck comfort while laying down. We kept the plastic on them from when I bought them to keep sand from getting on them.
(savethefamilymoney)
Cash back over ATMs all day erryday.
TD Bank claims to be the most convenient bank, but I call BS because of the ATM charges. (I love TD Bank, but I do not love buying my own money.) My mom taught me this really nifty loophole: the cash back option at stores. This is a fee free method of getting money out. After the Target trip, I got cash out at the end of the purchase so I had cash to spend at the beach and on the boardwalk (aka the Santa Monica Pier, aka West Coasters have no idea what a boardwalk is.) 
Portable chargers for everyone!
I charged and brought two portable chargers with both an iPhone cord and a mini USB cord just in case any of us needed a charger at the beach whether it was for a phone, speaker or some other fun electronic device. There's no worse feeling in the world--well, okay, that's a major over exaggeration--than having your phone die while you're stuck in an unfamiliar place far away.
(amazon)
Lotions, hand sanitizer and other nice smelly stuff.
I brought hand lotion, sunscreen, unscented and scented hand sanitizer and makeup wipes with me. 
Plastic bags.
Plastic bags are frustratingly hard to come by in California. However, in my many months here I have created quite the stock pile. I brought several plastic bags with us. They came in handy:
-Everyone had a bag to put their sandy clothes in
-Trash bags
-Impromptu group purse for cellphones, wallets, etc. 
Dollar Tree Sunglasses.
It's very hard to remember things. For example, if you're going to a very sunny place, you'd expect yourself to remember sunglasses. Well, sometimes we overestimate ourselves. I knew I would do such a thing. Both myself and our friend Don forgot our sunglasses. HOWEVER, I purchased four pairs of Dollar Tree sunglasses and kept the bag in the car in case we forgot! Everyone had an extra pair of sunglasses just in case. Dollar Tree has pretty nice sunglasses too. They're only a dollar, so buying them in bulk isn't too much of an expense and they come in handy.
ft. Dollar Tree shades and floppy hat. 


INTERNET HACKS
Put your iPhone in a Ziploc baggie to still use it while making it beach safe.
I took a large freezer Ziploc bag and put all of our phones, wallets, chargers, and keys in it. Our friend Gianna kept her phone in a tiny sandwich bag so she could still use it. Spoiler alert: she couldn't. You're at the beach, hang out with your pals and enjoy yourself not on your phone. If you really want to use it though, take the risk. The bag method ended up being pretty frustrating for the poor girl. 
Use an unfitted sheet to keep the sand out.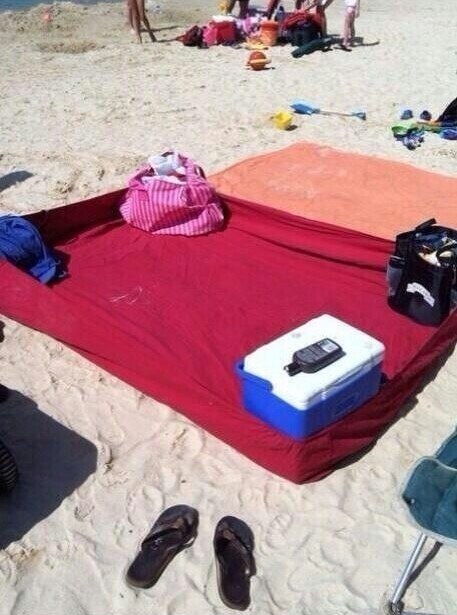 (buzzfeed)
I don't think this would ever work, ever outside of this photo or if you feel like dragging mammoth sized bags and coolers to the beach with you. Luckily, this did inspire the Frankenstein towel, picnic blanket, table cloth hybrid that we created. We managed to cover a large amount of space and placed our towels on top of the blanket and table cloth in order to keep sand from spilling onto them any time we turned. 
Use baby powder to remove sandy from your skin.
(pinterest)
I wore socks on the beach. Yeah. I'm super cool. However, the socks and stockings didn't stay sandy after I started walking around. However, the baby powder method is also super useful and it makes your skin feel so much softer--instead of sticky with sand and salt water. 
"If you are having trouble finding parking near the beach, you could save one of your old parking tickets and use it on your windshield to avoid getting a new one."
This is an actual beach hack. No. Don't do this. Don't ever even, why would someone think that this was an actual idea? The top notchiest method for free parking is neighborhoods. My boyfriend's aunt and uncle live near the beach. We parked on their curbside and just walked the extra ten minutes to the beach and saved about $20 on parking. Be sure to read the signs in neighborhoods first, but they're worth parking in to save the cash and aggravation.
Bring lots of water.
We picked up a $0.92 gallon of water on our way to the beach and it was nice to have. Connor really likes ice tea. We get the NesTea mix. So, I filled an empty one with the amount of powder he prefers and brought that to the beach. We filled the container up with the water, shook it up to mix it and he just drank out of the container all day and tossed it once he was done. It was a nice and efficient drink to have.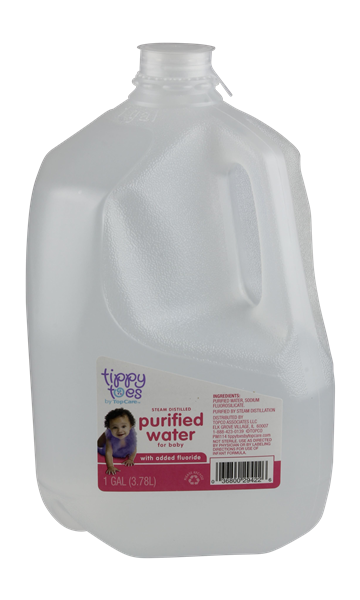 (hy-vee)
(kmart)
ADVICE FROM MY MOM
Checklist.
My mom and I are list people. Writing down a checklist of everything that we needed to bring and had in the car was extremely helpful. For example, Connor almost exclusively eats raw veggies. I cut them up the night before, but stored them in the fridge to keep them fresh. If I hadn't checked the list before we left, I would have forgotten them. The list is also helpful to go over within the group in order to make sure that everyone has what he/she needs, but also so we didn't double up on stuff. (I packed sunscreen, oh, I also packed sunscreen, etc.)
(erinakincaroll)
Leave early.
Leaving early is worth it. You experience the beach in all kinds of temperatures, crowds, and temperaments. Getting there early you have your choice of spots to choose from, it starts off cool and gets warmer throughout the day. There's less traffic to and on the beach as well.
Go to the bathroom at least twice before you leave.
Restrooms on the beach are to be your absolute last option. For some reason they are built to not flush after three uses and people just absolutely DESTROY them with bodily fluids and sludge. Go to the bathroom when you can before you leave and then space out beverage consumption throughout the day. 
Once you put your wallet away, keep it away.
I'm a professional panicker, but I also have an advanced degree in putting things down and abandoning them by accident. My wallet has fallen prey to this absent mindedness many a time. So, once we parked and all put our wallets in the plastic bag, I kept my wallet in that bag, inside of our bigger bag until we were back in the car. 
Make sure all of the sand is gone before you get in the car. 
Cleaning up thoroughly was kind of a pain, but totally worth not finding sand in every nook, crevice and cranny on ourselves and in the car for the next three days.
Have fun.
I did. 
I hope these tidbits were enlightening and that you have a summer of fun!