Moving isn't fun. It's a lot of work, time consuming, expensive, borderline dangerous, and very stressful. However, the internet is a powerful place full of great (and terrible) ideas, and suggestions to make this process smoother, easier, and a lot less of a headache.
(olympicmovers)
Top 10 Moving Hacks
10. Prep.
There's no such thing as being too prepared. Consider what you can do to make your transition easier. If you can, clean your new bathroom(s) and kitchen before moving in. That way they are ready to use by the time all of your stuff arrives to make it dirty again--but at least it's you that's making it dirty. Prep meals and food. When you're moving, you're not going to throw things away that you can still use. If you have canned items, or food that you want to bring with you that can withstand the move, pack it! For your first couple of weeks living in your new place, you might be taking some time to settle in. Make ahead some meals you can stash in the refrigerator or freezer. Moving in, but haven't got a fridge yet? Make sure you are stocked with snacks and food items that you can eat without all of the bells and whistles. Sometimes PB & J is the best kind of breakfast, lunch and dinner. Don't feel obligated to take every single thing you have ever owned in your life with you. Sometimes you don't need four hair dryers, or seven pairs of jeans you haven't worn since 2012. When you're packing up your stuff, make a pile/box designated for donation or sale. This way, you thin out what needs to be moved, and you might be able to make some money in the process. Last, but certainly not least, CHANGE YOUR ADDRESS. Do your change of address on all of the important stuff (post office, bank, etc.) at least one week before you move, that way you're not scrambling for it once you have already moved in. Also, if you're moving out of state, having as much mail as possible with your address on it will make your life easier when it comes to getting a new ID and driver's license. 
9. Reuse. Recycle. Repurpose.
When it comes to packing, consider what you are packing your stuff up in and with. Do you really want to go to Home Depot and spend $40 on boxes and packing peanuts? Probably not. Check around your place for boxes first, and then you can check out grocery stores, and other retailers for gently used boxes that they were just going to throw away anyway. When it comes to packing filler, old magazines, papers, and junk mail work wonders. Even if you don't have any, your friends and family do! Have super important valuables? Wrap them up with clothes you are packing to keep them safe and concealed. Utilize suitcases for moving your heavy items--they have wheels! You really can use anything as a box if you put your mind to it.
8. Label everything.
Come up with a system that works for you and utilize it. If you are going to write the name of the room on your boxes, make sure to do it on the side of the box, not on the top so that when you stack the boxes you can still see the labels. You can also come up with a color coding system, sectioning them off a certain way when you pack the boxes into the moving vehicle, etc. Figure out what works the best for you, and do it!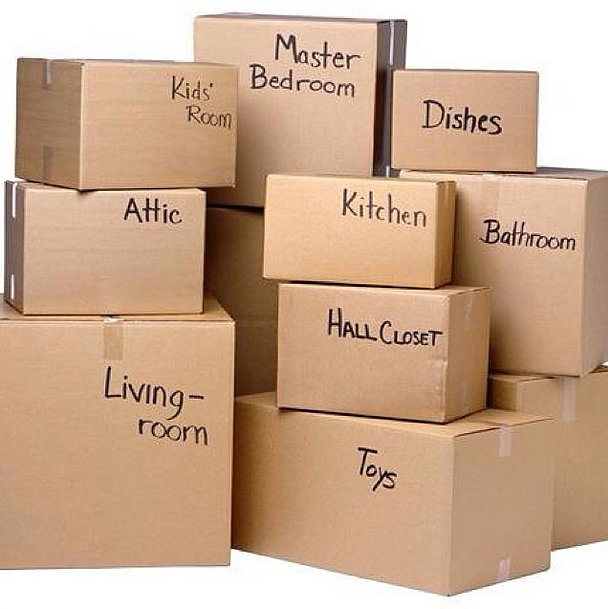 (IG: majorlmove)
7. Keep your plugs with your electronics.
Don't have a box just for wires. You'll never be able to find the HDMI cable for your television ever again. When you are packing up your electronics, make sure you pack them up with the wires--or again, find a labeling system.
(storageandglee)
6. Pack a "Must Have Box", and keep it with you.
I recently moved back to Los Angeles to start my big girl, adult life. I was without my belongings for the first five days of being in town--and it was awfully annoying. I moved out on Friday, started my new job on Monday, and I didn't have any of my stuff--clothes, hair brushes, make up, perfume, etc--until THURSDAY when FedEx finally decided to get my two day shipping to town (shipped the previous Monday btw). I had to buy a lot of stuff at Target over the weekend that I knew was going to be arriving at the house soon, but had no choice because I was in such a rush and I didn't think ahead. Don't put yourself in this situation. It's such a waste of money, energy and stress. Make sure you pack a box or a bag of stuff that you can use the first week that you move just in case. What is it that you need on a daily basis? Make sure you have it with you and keep it with you. If your stuff gets delayed in the move, or the boxes get moved in, but you just don't have time to unpack immediately, at least you still have all of your essentials for your first week. Even after my stuff arrived, I didn't get to touch any of it until Saturday because of work. BE READY.
5. Research.
I know this could probably fall into the "prep" section, but there's so much that goes into research that I wanted to give it its own number on the list. Research is important. There's a ton of research that you can do in order to prepare yourself for your move, or right after your move to help you settle in--so do it. It's maybe a half hour of your life on your computer that you're spending on Buzzfeed anyway, so make it useful. Research other moving hacks and tips. Find out what kind of apps you can utilize to help with the move. Research your new neighborhood. Find a new route to work from your new place that works the best for you. Research new furniture, DIY projects, etc. Make your house/apartment/hovel a home. Check out these links for other moving hacks:
Top 50 Moving Hacks and Tips: Ideas to Make Your Move Easier
Top 50 Moving Hacks of All Time
24 Ingenious Moving Hacks That Make Packing Painless
20 Smart Tips to Make Moving a Breeze
4. Schedule your actual "move in day."
Schedule out the moving in. Start the day at 8am with packing up the transport vehicles (or do this the night before), arrive at the moving site at 9am, 9:15am designate boxes to specific rooms, 10:00am break for breakfast, 11:00am unpack kitchen and bathroom, 1:00pm break for lunch, etc. Make sure you stock up on water bottles and little, easy snacks to keep yourself fueled for a day of lifting, moving, organizing and yelling.
(clutterinterrupted)
3. Rent the damn moving van/truck.
Yes, it goes against everything a "hacks" list stands for by telling you to spend money on something, but at the end of the day this will save you so much time, money, and aggravation. If you're not moving a lot of stuff and you happen to own a large enough vehicle, awesome. However, if you're moving a house load's worth of stuff, just rent the truck and make one trip. This is so much easier than making multiple trips, risking things being broken, and making the drive a lot more dangerous by making your car one big blindspot full of laundry and your favorite lamp.
(MatthewJJackson, flickr)
2. Use any hack you can to make sure you don't get locked out.
Whether it's the old rubber band around the doorknob hack, keeping your keys on a lanyard around your neck, or making sure there is always someone inside of the house during the move, just make sure you don't get locked out. 
(awesomeinventions)
1. Assemble a task force of capable pals. 
Don't move alone if you can help it. Start contacting people a couple of weeks in advance for help. No one wants to help anyone move--no one wants to move themselves, but at the end of the day you have family and friends that will be willing to help in any capacity. Assemble your team. Prepare. Come up with a plan. And move!
(newgenerationmovers)