Asparagus and Bacon Quiche by onceamonthmeals.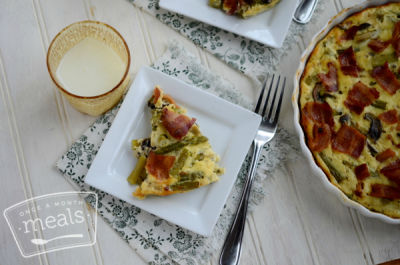 (onceamonthmeals)
Ingredients:
-½tbsp Butter
-½tbsp Olive Oil
-⅓ cups dice Onion
-1 ¼ cups slice Mushrooms, Crimini
-1 cup Ricotta Cheese
-1 cup Yogurt, Plain
-4 eggs
-½tsp Nutmeg
-½tsp Black Pepper
-½tsp Salt
-1tsp Herbs de Provence
-2 ¾ cups dice and cooked Asparagus
-½ cups cook and diced Bacon
Step One:
"Preheat oven to 400. Grease indicated number of pie pans with butter.
Step Two:
"In a skillet over medium heat, saute onions and mushrooms in olive oil until onions are translucent."
Step Three:
"In a large bowl combine ricotta cheese, yogurt, and eggs until creamy. Add in nutmeg, pepper, salt, and herbs de provence.
Gently fold in bacon, asparagus and mushrooms."
Step Four:
"Pour into prepared pans. 40 minutes."