5 Ingredient Key Lim Pie Bars by Pillsbury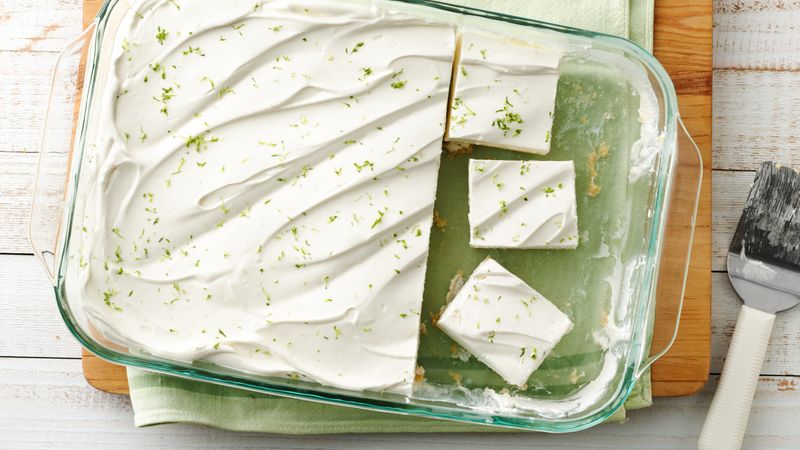 (pillsbury)
-1 roll (16.5 oz) Pillsbury™ refrigerated sugar cookies
-1 container (16 oz) frozen whipped topping, thawed
-2 cans (14 oz each) sweetened condensed milk (not evaporated)
-5 to 6 large limes (3/4 cup lime juice and 2 tablespoons grated peel)
-2 containers (6 oz each) Yoplait® Original yogurt Key lime pie
Step One:
Preheat oven to 350.
Step Two:
"Cut dough into 1/2-inch slices; place slices on ungreased large cookie sheet. Bake 18 to 20 minutes or until golden."
Step Three:
"Cool completely, then break cookies into gallon-size resealable food-storage plastic bag. Seal bag, and finely crush cookies with rolling pin."
Step Four:
"Pour finely crushed cookies into large bowl; stir in 1 cup of the thawed whipped topping. Press mixture into ungreased 13x9-inch (3-quart) glass baking dish."
Step Five:
"In large bowl, mix condensed milk and lime juice; beat with electric mixer on medium speed until thick and smooth."
Step Six:
"Fold remaining whipped topping and yogurt into milk mixture. Spoon onto cookie crust. Top with grated lime peel."
Step Seven:
"Cover and refrigerate about 8 hours or until completely set. Cut into 5 rows by 4 rows. Cover and refrigerate leftovers."