WELCOME SUMMER!
Time to chill despite the heat, bask in the sun, and enjoy some time off. Here are some southern style travel tips for those of you that find yourself traveling afar for your summer vacation. Let's go!
(jeniewiki)
Basic Tips:
1. Keep your important stuff close.
I just had to travel to the local Wawa to lose my wallet. Yep. I went to put gas in my car, and placed my wallet on top of the car. Once I was done pumping gas, I got in my car and drove off--leaving my wallet on the top of the car. I have no idea what happened to it to this day. It had my first ever paycheck in it. Now imagine that happening to you in an unfamiliar tourist trap, and your passport was inside or something! When you're traveling, I know everyone has told you a million times, but keep your wallet and important stuff close to you. Whether it's a little backpack that you always wear that has all of the big stuff in it, or it's a fanny pack that no one can get near without seeming super duper shady, make sure you always have your stuff.
2. Be careful when you budget.
Yes, getting a great deal is important and we here at Redneck Couture definitely appreciate quality merchandise for a fair price, but there are some things that you should be careful of going cheap on. Make sure to read reviews of hotels, motels, youth hostels, restaurants, airlines, etc before booking. Despite a great price/cost, you might be paying for an under quality experience. At the same time, be conscious of your spending on your trip! There are things priced specifically for tourists no matter where you go. Don't be a sucker, but don't be afraid to find something fun to keep with you to remember your trip.
3. Make a playlist of travel jams.
Whether you're taking a road trip and need a mix to get you through the many miles, or need something nice to lull you to sleep on the plane, be ready with playlists of your fave jams to get you in the mood for your trip and CHILL OUT.
4. Always have a plan B.
Things go wrong, that's simply the way life is. Don't let it get you down or ruin your trip! Have a few options for yourself just in case.
5. Packing is hard, so go with your gut.
Overpacking and under packing are both not ideal. If you over pack, you're stuck with a metric ton of stuff you don't need, but it's better that you had it and didn't need it, then need it and not have it like you would with under packing. Go with your first instincts when it comes to packing. If you know you are an over packer, have someone go over your bag and takes stuff out--you probably don't need that kiwi peeler--or look at suggested packing itinerary for the location you are traveling to.
(emergencycareforyou)
ROAD TRIP TRAVEL TIPS:
In need of a cool adventure this spring break or summer? Road trip! More often than not it is a cheaper way to unwind and have fun all while taking in an epic adventure. Here are some tips, tricks and suggestions to make your road trip awesome!
(apassportaffair.com)
1. Prep!
Before you head out, plan ahead.
-How many people are going?
-Where are we going? Select a route and plan it out, but give it a loose outline. Here's where we want to go and how to get there, and whatever happens along the way is just a bonus, but it's good to have a destination in mind. There are a bunch of really great websites to plan your road trip for you: here, here, here and here!
-How long will it take to get there?
-Where can we sleep? Where can we eat? Where's the best place to get gas? Research spots on your route that are best for lodging, dining and refueling so that you're prepared and not just driving around hoping for the best.
-Make snacks
-Purchase a gas card (gas cards more often than not have rewards points, after your first few stops you may have enough points to get gas with just the rewards!)
-Stock up on quarters and small bills to pay tolls.
-Get your car maintenance taken care of (change your oil, refill your windshield wiper fluid, clean out your car, take that laundry bag out of your trunk from two Februarys ago, get a new air freshener, etc)
2. Gather your travel pals and watch some road trip movies to get you all in the mood.
-Little Miss Sunshine                          -National Lampoon's Vacation
-Sideways                                           -Zombieland
-Road Trip                                           -Due Date
-Planes, Trains and Automobiles        -Tommy Boy
-Something Wild                                 -Black Sheep
-Away We Go
3. FOOD.
Snackage is important on any journey; however, eating out can get really expensive after your fourth stop at Lucy's Diner in the middle of west Jabip. Stock up on snacks for your trip before you head out!
-Trail mix         -Juice boxes         -Crackers         -Bread         -Cut up veggies
-Water             -Hard cheeses      -Cheez Its        -Dry Cereal  -Nutella
-100 Calorie Packs                      -Any of our Snack Like a Southerner recipes!
(hmhdesigns.wordpress.com)
If you're going to bring alcohol along, make sure to keep it in the trunk and don't drink and drive!
4. Take photos!
There are going to be a ton of fun photo opportunities. If you feel like you're tired, find a spot nearby that might be cool to take photos at, pull over and snap away! Take lots of photos on your way to your destination, upon arrival and even on your way back for things that you may have missed!
5. Passengers
Road trips really must be done in groups not only for safety, but for the most fun.
-Give each passenger a job: trash, GPS, food keeper, "doctor" (in charge of the First Aid kit), DD (if you find yourselves at a bar during your trip), valuables protector, photographer, etc.
-Rotate out drivers as well as shotgun. It's best to travel in at least groups of three, that way each person gets to drive, sit shotgun and sleep. Shotgun's responsibility is to keep the driver entertained and awake, which is a really important job!
-Each passenger selects a tourist spot he wants to got to or see. When it's his turn to select the destination, he drives!

(blog.otterbox.com)

6. Safety First!
Don't pick up hitchhikers, just, just don't. Whether they have a handsome face and a six pack or a bloodied axe swung over his/her shoulder, don't pick them up. Also here are some other safety tips:
1. Keep your valuables in a large CD case. It's innocuous.
2. Have a "back home buddy" that you can call or text when you arrive at certain destinations so that your road trip doesn't turn into an episode of Criminal Minds.
3. Know where you are going. Unless it's the absolute worst case scenario, stick to your route as close as possible.
4. Stay charged! Make sure at least two of your passengers have charged cell phones.
5. Be prepared for something to go horribly wrong with your car. There's a high chance that you'll get through your whole trip without smoke coming out of the hood of your car or anything like that, but it's better to be prepared. Keep an extra set of keys in case you get locked out, make sure you have jumper cables and a spare tire, things of that nature.
6. Keep an extra blanket in the trunk.
7. Theme it!
Come up with a fun theme to your field trip.
-Food! (Check out fun restaurants or factories of your favorite places)
-Internet Friends (Your parents have probably stressed to you not to talk to strangers since your MySpace days that you don't want to talk about, but now that you're grown up enough to make your own bad but probably great choices, go pick up the pals you have been Skyping with over the years! Or if you have a friend that moved somewhere far far away, go pay them a visit.)
-Music Festivals or Concerts (We just published an article in regards to country's hottest artists and their tour dates, give it a read! Or make a list of bands or festivals your friends want to see and follow it on the road!)
-Sports (Follow your favorite sports team or go to national landmarks regarding to your favorite sport.)
-Tourist Traps (Those places for fannypackers and moms! Check out the world's largest whatever, museums, monuments, weird historical sites, fun and almost free attractions, etc.)
-Scavenger Hunt (Plan out a scavenger hunt in which you have to get a picture or weird memento from the locations you wanna go on your trip. Make it a points system, the passenger with the most points get some kind of prize at the end-cash prize that you all chip in for, drinks, a pat on the back, etc.)
-Haunted Places or Ghost Towns
8. Pick a famous route.
-California Route 1 (Pacific Coast Highway)
-Vermont Route 100
-Georgia Golden Isles
-Northshore Drive Minnesota Route 61
-Route 66 Texas
-Blue Ridge Parkway
9. Document your travels.
-Take photos (tell a story with your pictures, post them to Instagram, make your own post cards, take photos with strangers, do a theme, etc.)
-Take video (documentary style, fun shaky cam, etc.)
-Snapchats!
-Write in a travel journal (expectation vs reality, fun and not fun, letters back home, etc.)
10. Play games!
From ISpy to the License Plate Game to a scavenger hunt. Keep the ride fun and friendly with fun games. This will also help keep the driver alert and engaged.
A DAY AT THE BEACH:
Most of this is speaking from experience. The first time I went to the beach by myself was last June and I was 21 years old. Here's how it went down, and why I think the experience may be helpful for you.
MY BRIGHT IDEAS
Pack the night before.
I'm a professional panicker. If I could put it on my business cards I would--but then it would be spatially unpleasing to look at and I would panic about that, it's a vicious cycle. So, I thought I should pack everything that I needed the night before, that way I could scramble around less at the last minute. This allowed me to check, double check, as well as make sure that I had everything that all of us could have needed or wanted.
DRAMATIZATION:

(organizedchaosonline)
Unpack the morning of.
Remember that professional panicker thing? Well, it causes me to over prepare (I mentioned the over packing thing above). Our beach bag was packed for nuclear apocalypse survival more than for a day of fun in the sun. It was so much easier and faster to take out extra stuff that we may not need than it would have been running around trying to shove stuff into a bag that morning, so even though I did over pack, it was much less stressful to take 5 minutes to take stuff out instead of running around for 20 minutes that morning trying to shove stuff in a bag, and then I end up leaving my phone on the counter top in the hustle and bustle.
Clearance shopping.
I'm pigmentally challenged--super, duper pale. I don't do well in the sun. I wanted to get a floppy hat to go to the beach with to go along with my ridiculous beach outfit. (I wear stockings and a hoodie and it's my "I wouldn't blame my mom for telling people I was adopted if she was caught with me in public while I was wearing this" outfit) So, the gang and I went to Target the afternoon before the beach. I found a floppy hat in their front section by the doors for $5. We shopped around a bit for snacks and such and I found my way to the clearance section because I was a sad, broke college student. Here's where the awesome idea comes in. There were picnic blankets, table cloths, and bath towels on clearance. I bought a 6ft x 8ft table cloth (with these cute foxes eating ice cream), a 6ft x 6ft picnic blanket, and two fluffy bath towels that were 5ft x 2ft, and two pillows for a total $17. Instead of purchasing beach towels, for $10.99 each, I bought all of the coverage we needed for less than the price of those two towels. The clearance options are not only cheaper, but it allows for kind of a sense of lack of responsibility. If the table cloth gets ripped, we have to leave it behind, etc, I don't really mind because it was only $1.98. I have to fly back from Los Angeles, to Philadelphia. If I had bought $22 worth of beach towels, you bet your diggity darn bottom dollar that I was going to pack them up and bring them home no matter how inconvenient! However, these clearance items were cheap, multi purpose and were things that we didn't have to necessarily keep--even though that's what we ended up doing. I also highly recommend bringing pillows to the beach for maximum neck comfort while laying down. We kept the plastic on them from when I bought them to keep sand from getting on them.
(savethefamilymoney)
Cash back over ATMs all day erryday.
TD Bank claims to be the most convenient bank, but I call BS because of the ATM charges. (I love TD Bank, but I do not love buying my own money.) My mom taught me this really nifty loophole: the cash back option at stores. This is a fee free method of getting money out. After the Target trip, I got cash out at the end of the purchase so I had cash to spend at the beach and on the boardwalk (aka the Santa Monica Pier, aka West Coasters have no idea what a boardwalk is).  
Portable chargers for everyone!
I charged and brought two portable chargers with both an iPhone cord and a mini USB cord just in case any of us needed a charger at the beach whether it was for a phone, speaker or some other fun electronic device. There's no worse feeling in the world--well, okay, that's a major over exaggeration--than having your phone die while you're stuck in an unfamiliar place far away. Make sure all of you electronics are charged, and be prepared to charge them further. 
(amazon)
Lotions, hand sanitizer and other nice smelly stuff are useful.
I brought hand lotion, sunscreen, unscented and scented hand sanitizer and makeup wipes with me. Yes, it was too much, but the makeup wipes, sunscreen and hand sanitizer came in handy.
Plastic bags.
Plastic bags are frustratingly hard to come by in California. However, in my many months here I have created quite the stock pile. I brought several plastic bags with us. Plastic bags may be awful for the environment, but boy oh boy do they make clean up and travel easier. 
-Everyone had a bag to put their sandy clothes in
-Trash bags
-Impromptu group purse for cellphones, wallets, etc. 
Dollar Tree Sunglasses.
It's very hard to remember things. For example, if you're going to a very sunny place, you'd expect yourself to remember sunglasses. Well, sometimes we overestimate ourselves. I knew I would do such a thing. Both myself and our friend Don forgot our sunglasses. HOWEVER, I purchased four pairs of Dollar Tree sunglasses and kept the bag in the car in case we forgot! Everyone had an extra pair of sunglasses just in case. Dollar Tree has pretty nice sunglasses too. They're only a dollar, so buying them in bulk isn't too much of an expense and they come in handy.
ft. Dollar Tree shades and floppy hat. 


INTERNET HACKS
For those individuals that are #obsessed with internet hack and other Pinterest-y ideas, here are some tips and trips that I have tried, and whether or not they actually worked as per the internet's suggestion. 
Put your iPhone in a Ziploc baggie to still use it while making it beach safe.
I took a large freezer Ziploc bag and put all of our phones, wallets, chargers, and keys in it. Our friend Gianna kept her phone in a tiny sandwich bag so she could still use it. Spoiler alert: she couldn't. You're at the beach, hang out with your pals and enjoy yourself not on your phone. If you really want to use it though, take the risk. The bag method ended up being pretty frustrating for the poor girl. 
Use an unfitted sheet to keep the sand out.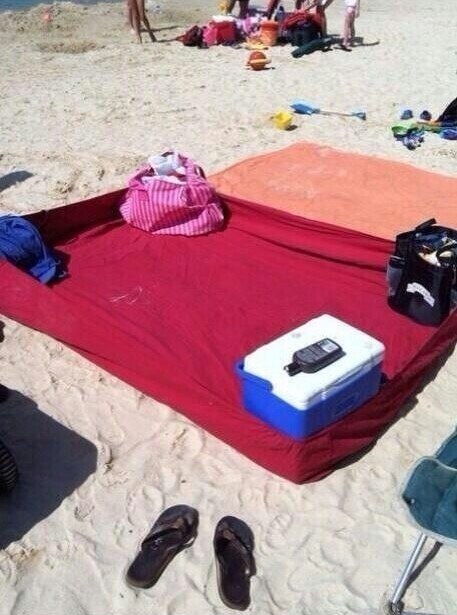 (buzzfeed)
I don't think this would ever work, ever outside of this photo or if you feel like dragging mammoth sized bags and coolers to the beach with you. Luckily, this did inspire the Frankenstein towel, picnic blanket, table cloth hybrid that we created. We managed to cover a large amount of space and placed our towels on top of the blanket and table cloth in order to keep sand from spilling onto them any time we turned. 
Use baby powder to remove sandy from your skin.
(pinterest)
I wore socks on the beach. Yeah. I'm super cool. However, the socks and stockings didn't stay sandy after I started walking around. However, the baby powder method is also super useful and it makes your skin feel so much softer--instead of sticky with sand and salt water. 
"If you are having trouble finding parking near the beach, you could save one of your old parking tickets and use it on your windshield to avoid getting a new one."
This is an actual beach hack that I have found on multiple websites and Pinterest boards. No. Don't do this. Don't ever even, why would someone think that this was an actual idea? The top notchiest method for free parking is neighborhoods. My boyfriend's aunt and uncle live near the beach. We parked on their curbside and just walked the extra ten minutes to the beach and saved about $20 on parking. Be sure to read the signs in neighborhoods first, but they're worth parking in to save the cash and aggravation.
Bring lots of water.
We picked up a $0.92 gallon of water on our way to the beach and it was nice to have. Connor really likes ice tea. We get the NesTea mix. So, I filled an empty one with the amount of powder he prefers and brought that to the beach. We filled the container up with the water, shook it up to mix it and he just drank out of the container all day and tossed it once he was done. It was a nice and efficient drink to have.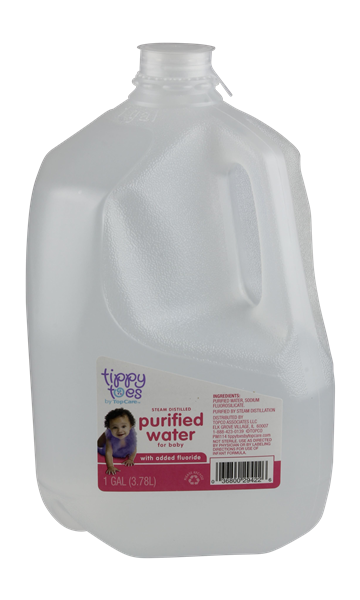 (hy-vee)
(kmart)
ADVICE FROM MY MOM
Can't go wrong with good old fashioned advice from the parental units when it comes to making adult adventures and excursions.
Checklist.
My mom and I are list people. Writing down a checklist of everything that we needed to bring and had in the car was extremely helpful. For example, Connor almost exclusively eats raw veggies. I cut them up the night before, but stored them in the fridge to keep them fresh. If I hadn't checked the list before we left, I would have forgotten them. The list is also helpful to go over within the group in order to make sure that everyone has what he/she needs, but also so we didn't double up on stuff. (I packed sunscreen, oh, I also packed sunscreen, etc.)
(erinakincaroll)
Leave early.
Leaving early is worth it. You experience the beach in all kinds of temperatures, crowds, and temperaments. Getting there early you have your choice of spots to choose from, it starts off cool and gets warmer throughout the day. There's less traffic to and on the beach as well.
Go to the bathroom at least twice before you leave.
Restrooms on the beach are to be your absolute last option. For some reason they are built to not flush after three uses and people just absolutely DESTROY them with bodily fluids and sludge. Go to the bathroom when you can before you leave and then space out beverage consumption throughout the day. 
Once you put your wallet away, keep it away.
I'm a professional panicker, but I also have an advanced degree in putting things down and abandoning them by accident--remember the wallet thing? So, once we parked and all put our wallets in the plastic bag, I kept my wallet in that bag, inside of our bigger bag until we were back in the car. 
Make sure all of the sand is gone before you get in the car. 
Cleaning up thoroughly was kind of a pain, but totally worth not finding sand in every nook, crevice and cranny on ourselves and in the car for the next three days.
Have fun.
I did.
FAR FAR AWAY ADVENTURE:
(theodyesseyonline)
1. Do the Prep Work.
-Book all of your travel: save your confirmation emails and flag them for easy location the day of your trip
-Figure out what you need. Whether you're taking a day trip down to Virginia for some good old fashion historical site seeing, a good time at Disneyland, or even a two week trip to Nashville, be sure you know what you need for these trips.
-Make sure your homestead will be taken care of. Do you need someone to water the plants? Feed the dog? Pick up your mail? Check in on your wallpaper because it gets lonely? Also, bonus tip, create an "at home point of contact." Have someone you can give information to in case something happens, and to also make sure you don't get TAKEN.
-Plan your musts. You can get overwhelmed on a trip. Make sure you have a game plan for the places that you absolutely MUST go to, and then leave everything else to chance.
2. Utilize other's experiences.
I know that sounds kind of dumb, but it's good to know what you might be getting into. More often than not, reviews on the internet can be a hit or miss on helpfulness because some of the responses are absolutely outlandish, or paid to be good. Talk to the people that you know, for what they know. Ask for tips!
3. When you're packing, pack small--literally.
If you pack in a smaller suitcase or backpack, then you are forced to not overpack.

(redneckcouture)
4. Find the map app for you.
If you're traveling somewhere completely new, know where you need to go. Find the app that works the best for you.
5. If you're a tourist...don't act like a tourist.
You know that money belt your Nanny told you to get so that the "gypsies" can't pick pocket you? Yeah, leave that at home. If someone wants to find a mark, they look for stuff like that specifically. Act like you know where you are, be confident, and be alert.
(travelfashiongirl)
6. Have fun!
Don't forget that at the end of the day you can plan, and pack, an panic, but the point of a vacation is to have fun. Have a blast, don't spend too much money, and come back in one piece.
Want more tips? Here, here, and here!