The holidays are quickly approaching. That means lots go shopping, gift wrapping, decorating, and making phone calls to relatives that you forgot you had. It's still a spectacular time to be had by all. 
Here's a simple gift guide to help you this season to buy for the fancy redneck in your life!
Gift Cards
Purchasing a Gift Card for someone can often times be misunderstood as impersonal, but let's be honest, Gift Cards are awesome for both the giver and the receiver. Gift Cards allow for people to buy someone a gift they will actually like via proxy.
CA$H MONEY
Yeah, this one is super impersonal, but seriously, for the college student you know, he/she will rejoice at having some extra spending money.
Shameless plug, but Redneck Couture has quality apparel and jewelry for the fancy redneck in you. We have released three new Boot Bling designs this year, and we have twenty different tassel color options--perfect for special occasions, bridesmaids, or matching school colors.

Amazon
Seriously. This site has everything. Amazon comes equipped with really useful suggestions, recommendations and deals as well. If you know your friend works out a lot, get them a water bottle that can also be a wallet. Does your mom love the idea of making spaghetti out of a zucchini? Boom get her a Veggetti machine that can literally turn any vegetable into delicious "pasta."
Veggetti Pro

(amazon)
Kangaroo Bottle

(amazon)
Etsy
If you're looking for cute, quirky, and crafty items for someone special, Etsy is the place to check out.
Money Soap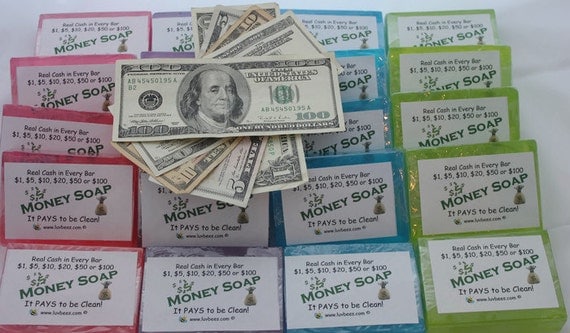 (etsy)
Tip:
Buzzfeed and Pinterest are great aggregators for Gift Lists. They have categories and lists for every single person on your list. Don't be afraid to give them a scroll.
Tip:
KEEP IT SIMPLE. More often than not, simple and useful gifts are pretty spectacular ones. If you feel that you don't know someone enough, or that someone has everything, you can probably just do something simple.
Tip:
Timing is everything. Shop on weekdays. This way stores aren't as zany and crowded. If you find yourself shopping on the weekend, go really early in the morning.
Tip:
I'm a really big Dollar Tree supporter. Go there. You can find everything you need to wrap this year: really cute wrapping paper, boxes, gift bags, gift tags, tissue paper, tape, scissors, etc.
Tip:
BUDGET! Come up with a "Nice List" of people that you plan on buying for this year. Then, come up with a budget. How much can you afford to spend on gifts this year? Then divide it up amongst the people on your list.
Tip:
Buy cards! If you aren't doing gifts this year, and even if you are, get cards for the special people in your life. Everyone likes a card, and it will make them feel like you were thinking of them.
Tip:
Free shipping is the best kind of shipping. Shop at websites like Redneck Couture, Mod Cloth, Amazon, Apple and even Target. Some websites require minimum purchase amounts to qualify for free shipping (like Apple), but more often than not, you're already going to be spending that minimum anyway. Also, stores like Walmart and Target allow for you to pick the items up in stores--so you don't have to pay for shipping.
Tip:
Organize your gifts. I'm the type of person that keeps her life in Excel sheets. Be organized when it comes to your shopping, because it will keep you on budget and on time. Make sure you know how much you're spending, where you're spending it, and what/who you are spending it on.
Tip:
Keep every receipt. Again, I do this for everything in general, but for the holidays I keep an envelope of receipts from my holiday shopping. This allows you to figure out when and where you bought stuff, and makes returns simpler. 
Tip:
Get gift receipts and put them in the boxes. This is especially true if you purchase clothing for someone.
Tip:
If the person has never mentioned it, he/she probably doesn't want it or need it.
Tip:
Make gifts! Don't spend more money on DIY projects than you would on the actual purchased item, but sometimes it's fun to make a gift with a personal touch. Pinterest has an endless amount of ideas.